2021/12/04 online meeting 15-17 CET


Reunión de trabajo abierta hacia la contracumbre de la OTAN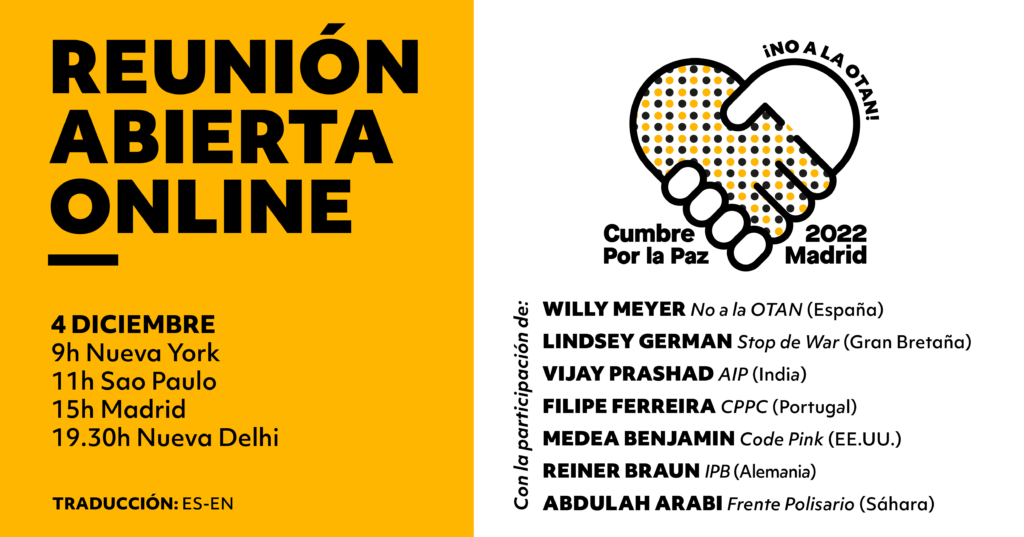 Os recordamos que tendremos interpretación ES-EN disponible
http://peacesummitmadrid.org/es/
Os recordamos que nuestra cita es este sábado 4 de diciembre a las:
9h Nueva York
11h Sao Paulo
15h Madrid
19.30h Nueva Delhi
– Nuestra agenda:
Parte 1 (45 min.) Intervenciones de:
– Willy Meyer No a la OTAN (España)
– Lindsey German Stop de War (Gran Bretaña)
– Vijay Prashad AIP (India)
– Filipe Ferreira CPPC (Portugal)
– Medea Benjamin Code Pink (EE.UU.)
– Reiner Braun IPB, No to War – No to NATO (Alemania)
– Abdulah Arabi Frente Polisario (Sáhara)
Parte 2 (75 min.):
– Sesiones de trabajo (salas de zoom) para discutir cómo organizarnos, movilizarnos y crear alianzas hacia Madrid 2022
– Resumen de propuestas y siguientes pasos
Es emocionante empezar este proceso con la presencia de tantas organizaciones distintas y de tantos países diferentes. ¡Comencemos un camino unitario donde coordinarnos y trabajar juntas y juntos en las distintas realidades de los países y regiones hacia Madrid 2022! Mientras ellos organizan la Cumbre de la Guerra, nosotras y nosotros organizamos la Cumbre de la Paz.
Nos vemos el sábado, quedamos a vuestra disposición,
Equipo de coordinación de la Cumbre por la Paz.