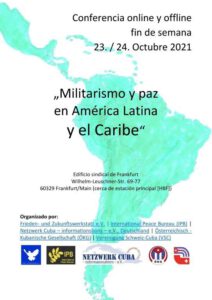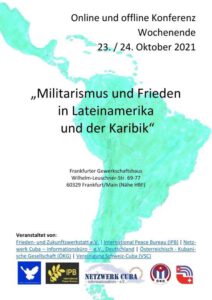 Online registration | Inscripción en línea |Online-Registrierung https://bit.ly/3z3B8Ne (zoom).
Registration for | Inscripción para | Anmeldung für Frankfurt: .
The No to war – No to NATO Network condemns the proposals for a new NATO agenda, outlined in NATO 2030: United for a New Era. The report presents a dangerous expansion plan that will increase tension and the risk of war.
Introduction
In 2020 NATO-Secretary-General Stoltenberg commissioned a group of 10 'experts' to reflect on the future of NATO. In their report NATO 2030: United for a new Era they come up with 138 proposals that are supposed to help the military alliance meet key challenges in the next decade. The report, while not yet formally adopted by NATO, will be used to inspire the next NATO summit scheduled to be held in Brussels later this year. Continue reading →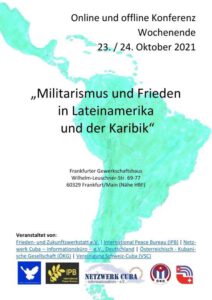 Online und offline Konferenz Wochenende 23. / 24. Oktober 2021
"Militarismus und Frieden in Lateinamerika und der Karibik"
Frankfurter Gewerkschaftshaus
Wilhelm-Leuschner-Str. 69-77
60329 Frankfurt/Main (Nähe HBF)
Veranstaltet von:
Frieden- und Zukunftswerkstatt e.V. | International Peace Bureau (IPB) | Netzwerk Cuba – informationsbüro – e.V., Deutschland | Österreichisch – Kubanische Gesellschaft (ÖKG) | Vereinigung Schweiz-Cuba (VSC)
LAK-DE-Militarismus-und-Frieden-Programm.pdf