2021/12/04 online meeting 15-17 CET


Open work meeting towards NATO Counter Summit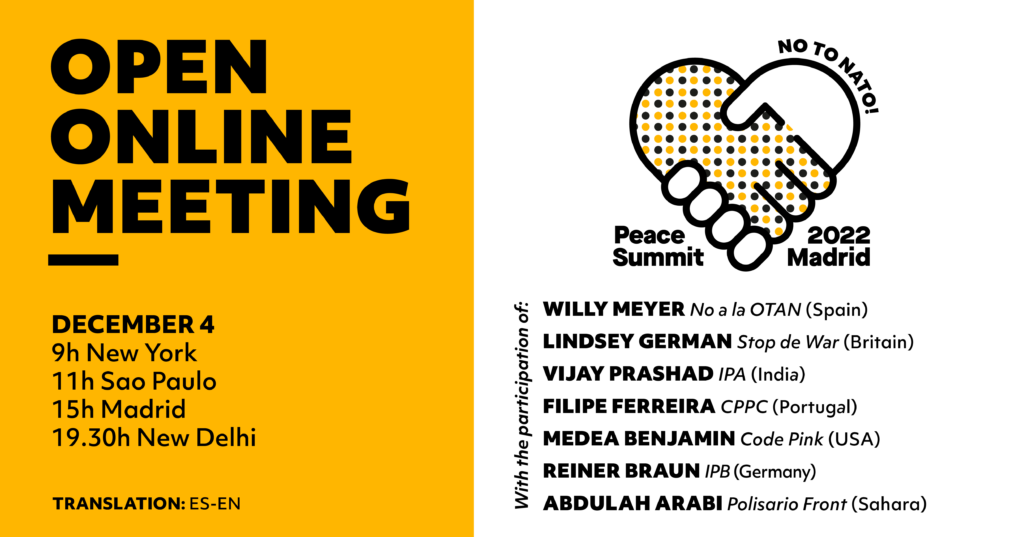 We remind you that our appointment is this Saturday December 4th at:
9h New York
11h Sao Paulo
15h Madrid
19.30h New Delhi
– Our agenda:
Part 1 (45 min.) Interventions by:
– Willy Meyer No to NATO (Spain)
– Lindsey German Stop de War (Great Britain)
– Vijay Prashad AIP (India)
– Filipe Ferreira CPPC (Portugal)
– Medea Benjamin Code Pink (USA)
– Reiner Braun International Peace Bureau (IPB), No to War – No to NATO (Germany)
– Abdulah Arabi Polisario Front (Sahara)
Part 2 (75 min.)
– Working sessions (zoom rooms) to discuss how to organize, mobilize and build alliances towards Madrid 2022.
 – Summary of proposals and next steps
It is exciting to start this process with the presence of so many different organizations and from so many different countries. Let's start a unitary process where we can coordinate and work together in the different realities of the countries and regions towards Madrid 2022! While they organize the War Summit, we organize the Peace Summit.
See you on Saturday, we remain at your disposal,
Coordination team of the Peace Summit.