!!! Cancellation of the demonstration and human chain in Berlin sept. 26 !!!
Ramstein Protest Days 2020 now on 25.09.2020 in Berlin and in the INTERNET!!!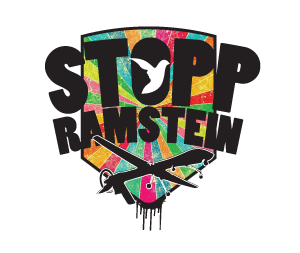 Campagne Stopp Air Base Ramstein
!!! Cancellation of the action week in July !!! Ramstein Protest Days 2020 now from 25. to 27.09.2020 in Berlin !!!
NOW two events in Berlin and online!
Dear colleagues and friends of peace
also, in Rhineland-Palatinate and thus in Kaiserslautern and Ramstein-Miesenbach all events are cancelled at least until 10.07.2020.
The knowledge that there is certainly no exception for us peace activists and the responsibility for the health of all of us and all of our fellow citizens with whom we want to get in contact has caused the coordination circle of the campaign "Stop Air Base Ramstein" on 17.03.2020 to cancel the Stop Air Base Ramstein Action Week, which was planned for the beginning of July.
The action week from 5 to 12 July is cancelled!
We are fully aware of the consequences of this decision, in the year of the procurement of the armed drone for the German Armed Forces, of the military exercise Defender 2020 and the further confrontation and armament policy. However, we also do not want to treat people's health lightly or carelessly. Hence this far-reaching decision, which we did not take lightly.
But in every crisis, there is also an opportunity!
We want to use the situation to "rush" with all our strength and determination to prepare for the protests in Berlin in September. We even want to expand the activities in Berlin into a comprehensive protest movement, a protest weekend.
It should become the "Stop Ramstein Protests 2020 Berlin". We want to bring our protests to Berlin – to politics – with power and force and confront them with our demands.
For this we have started to plan and to think. On the one hand, we want to hold a big demonstration with an interesting new designed rally, as planned so far. On the other hand we want to prepare further elements of the protest in Berlin under the new circumstances:
a big public evening event with prominent speakers
the International Anti-Military Base Congress, with probably more international participation than ever before
if possible, a peace camp for the weekend with a "small" peace workshop.
We are of course open for further ideas and considerations.
We always wanted to "bring" the Ramstein protests to Berlin, now we are using the circumstances with full force! Surely, we will be back with our protests in front of the air base in 2021, but this year for the first time our protest will be directly addressed to the Federal Chancellery and the Ministry of Defense as well as the German Bundestag.
We hope you are – after the first moments of disappointment we all felt – as enthusiastic and motivated as we are. Because Berlin will only be big and successful if you all join in. Make Berlin "your cause": Prepare, mobilize with us and above all come to Berlin and bring at least two more with you!
The actions in Berlin, after the protests against Defender 2020, which started so well, can be a great chance to strengthen the already big "Ramstein-movement", to win new comrades-in-arms and to meet many old comrades-in-arms again.
Let us use this chance together and in solidarity!
No to combat drones! Closure of Ramstein Air Base ! Termination of the so-called troop stationing agreement !
For this and for peace in a just and sustainable world we will demonstrate in Berlin from 25 to 27 September. Please enter the date firmly.
See you in Berlin!
With peaceful greetings
Reiner Braun and Pascal Luig
(Translated with www.DeepL.com/Translator (free version))