2020/09/25 Berlin (Germany) and online


!!! Ramstein Protest only one day now in Berlin and ONLINE!!!
Read more in English !!! Ramstein Protest Days 2020 now from 25. to 27.09.20 in Berlin !!!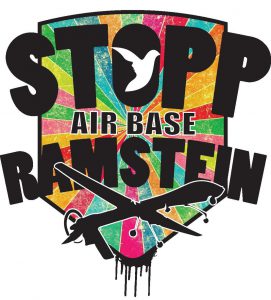 Absage der Demonstration und Menschenkette | Cancelation of demonstration and human chain
Erklärung des Koordinierungskreises der Kampagne Stopp Air Base Ramstein Absage
Wir wollen die Situation nutzen, um uns mit ganzer Kraft und Entschlossenheit auf die Vorbereitung der Proteste in Berlin im September "zu stürzen". Wir wollen mit Macht und Wucht unsere Proteste nach Berlin – zur Politik bringen – und diese mit unseren Forderungen konfrontieren. Es sollen die "Stopp Ramstein Protestaktionen 2020 Berlin" werden.
Dafür haben wir angefangen zu planen und zu überlegen. Wir wollen einerseits wie bisher geplant eine große Demonstration mit interessanter neu gestalteter Kundgebung durchführen. Andererseits wollen wir unter den neuen Umständen nun noch weitere Elemente des Protestes in Berlin vorbereiten:
eine große öffentliche Abendveranstaltung mit prominenten Redner*innen
den internationalen Anti-Militärbasenkongress, mit wahrscheinlich mehr internationaler Beteiligung als jemals zuvor
wenn irgend möglich ein Friedenscamp für das Wochenende mit einer "kleinen" Friedenswerkstatt.
Wir sind natürlich offen für weitere Ideen und Überlegungen.
Wir wollten schon immer die Ramstein-Proteste "nach Berlin bringen", jetzt nutzen wir die Umstände mit voller Kraft! Sicher werden wir 2021 wieder mit unseren Protesten vor der Air Base sein, dieses Jahr soll sich unser Protest aber erstmals direkt an das Bundeskanzleramt und das Verteidigungsministerium sowie den Deutschen Bundestag richten.
Wir hoffen, Ihr seid – nach den ersten Augenblicken der Enttäuschung, die wir alle verspürt haben – genauso begeistert und motiviert wie wir. Denn Berlin wird nur groß und erfolgreich, wenn Ihr alle mitmacht. Macht Berlin zu "Eurer Sache": Bereitet mit vor, mobilisiert mit uns und vor allem kommt nach Berlin und bringt mindestens noch zwei mit!
Die Aktionen in Berlin, nach den so toll begonnen Protesten gegen Defender 2020, können eine große Chance sein, die jetzt schon große "Ramstein-Bewegung" weiter zu stärken, neue Mitstreiter*innen zu gewinnen und viele alte Mitstreiter*innen wiederzutreffen.
Lasst uns gemeinsam und solidarisch die Chance nutzen!
Nein zu Kampfdrohnen! Schließung der Air Base Ramstein ! Kündigung des sog. Truppenstationierungsabkommens!
Dafür und für den Frieden in einer gerechten und nachhaltigen Welt demonstrieren wir vom 25. bis 27. September in Berlin. Tragt den Termin bitte fest ein.
Wir sehen uns in Berlin!
Mit friedlichen Grüßen
Reiner Braun und Pascal Luig