2022/03/27 Brussels, Belgium 17:00 h UTC


Drones 101: A Webinar on the Human Cost of Remote Warfare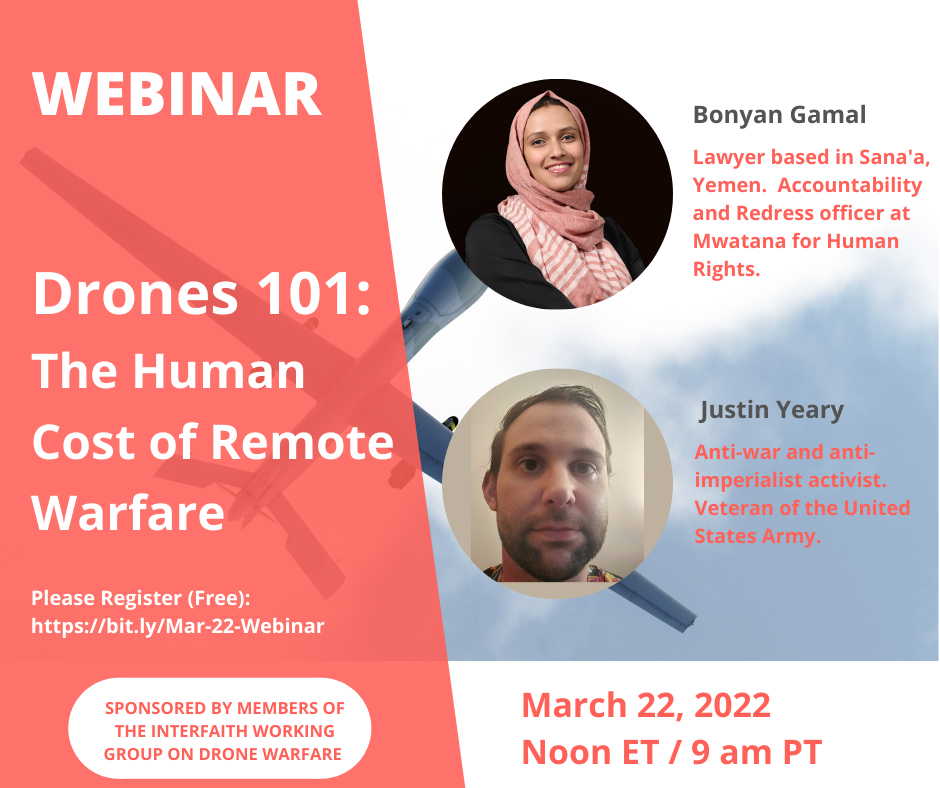 Register: https://nam02.safelinks.protection.outlook.com/ (zoom link)
Dear Friends,
Please join us on Tuesday, March 22 at noon ET / 9am PT for "Drones 101: A Webinar on the Human Cost of Remote Warfare."
This webinar is an opportunity to hear directly from impacted communities; including a speaker from Yemen who will discuss the effects drone strikes have had there, and a U.S. Army veteran who will share how the U.S.' use of drones affected him.
Speakers will discuss armed drones, how they're being used, what impact they've had, and why a growing number of religious organizations are working to ban or restrict their use.
Featured Speakers:  
Bonyan Gamal: A lawyer based in Sana'a, Yemen, she is an Accountability and Redress officer at Mwatana for Human Rights. She has been working at Mwatana for 6 years. Two of those years she worked as a field researcher documenting human rights violations by all parties to the conflict, covering several governorates around Yemen. She then worked in the legal support unit providing legal support for the victims of detention related abuses in Yemen, focusing on Sana'a and supervising a team of lawyers in Aden and Al Hudaida governorates. She worked on several cases for members of Yemen's Baha'i and Jewish minorities and women in Sana'a. For the past three years she has worked on promoting accountability for Yemen through international legal action on several issues, including the arms trade, U.S. drones operations, and detentions.
Justin Yeary: An anti-war and anti-imperialist activist as well as a veteran of the United States Army. He served from 2014 until 2021 as a satellite communication operator. He deployed twice; one to Iraq in 2017, and again to Poland in 2019. While serving in Iraq, he saw first-hand the horrific effects of drone warfare, which forged his political and moral beliefs on the senseless destruction and violence of war. After reflecting on his experiences, in late 2019 he decided to apply for discharge as a conscientious objector. He was honorably discharged in March 2021 as a conscientious objector. He now works full time in the IT industry while also attending a master's program focusing on data analytics. 
Along with other members of the Interfaith Working Group on Drone Warfare, I will share how you can participate in advocacy to ban or restrict drone warfare.
We look forward to seeing you on the 22nd!
Sincerely,
Matt Hawthorne
Policy Director
National Religious Campaign Against Torture
PO Box 91820
Washington, DC 20090
202-547-1920
www.nrcat.org