2021/05/06-08/04 Japan


National Peace March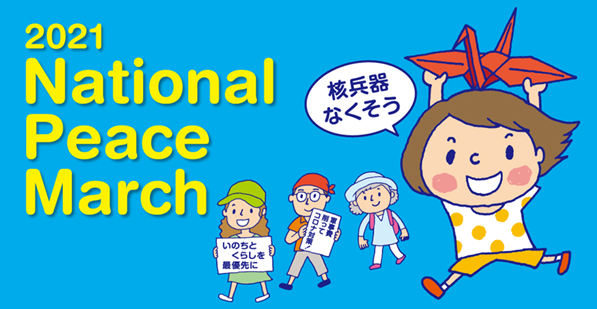 Call for Organizing Peace Marches/Actions in Solidarity with the 2021 Peace March in Japan (May 6 to August 4, 2021)
In the historic year when the Treaty on the Prohibition of Nuclear Weapons (TPNW) entered into force, the 2021 Peace March will start on May 6 from Tokyo, walking towards Hiroshima and Nagasaki. At a new stage that nuclear weapons are prohibited for the first time in human history, we started a signature campaign to urge the Japanese government to sign and ratify the TPNW. Through the peace march, we will enhance public opinion to put pressure on the Japanese government to do so and develop cooperation between citizens and local governments, and send a message from Japan to the world that nuclear weapons should be abolished now!
The world is still suffering from the coronavirus pandemic. Naturally, there are difficulties and limitations for our activities, but the abolition of nuclear weapons remains crucial and urgent for humanity to survive. We have lessons and experiences from the 2020 Peace March.  We organized a wide variety of creative marches/actions virtually and in person.
Based on them, we are determined to further develop the Peace March, organizing street standing actions, signature collection, petitioning to local governments, operation of loudspeaker cars, use of social media platforms, online distribution of information and collection of pennants with wishes for the abolition of nuclear weapons.
The Peace March began in 1958 with Atsushi Nishimoto (Mr.) starting to walk calling for the prohibition of A and H bombs. Since then, it has taken place every year in every prefecture, gathering wishes of Hibakusha and walking to the A-bombed cities of Hiroshima and Nagasaki.
This year, the 76th anniversary of the atomic bombing of Hiroshima and Nagasaki, we will continue to walk vigorously from Hokkaido's Rebun Island in the north and from Okianwa in the south to Hiroshima and Nagasaki, calling for a world without nuclear weapons.
Friends,
We call on you to organize peace marches/actions in your communities, schools and workplaces, etc, irrespective of virtual or in person, in solidarity with the 2020 Peace March in Japan. Please send your plans/actions to us, we will report your plans/activities in weekly peace march (virtual). Let's walk and take action together for achieving a world without nuclear weapons.
2021 Peace March Schedule & Courses
Link: http://www.antiatom.org/english/our_activity/pdf/2021PeaceMarch-Map%20210413.pdf
Please contact:
Malaya Fabros, international coordinator  
————————————————————————————-
Japan Council against A and H Bombs (Gensuikyo)
2-4-4 Yushima, Bunkyo-ku, Tokyo 113-8464 Japan  E-mail:
Tel: 81-3-5842-6034 Fax: 81-3-5842-6033  Web Site: http://www.antiatom.org