2018/10/06-13 worldwide (update 2018/09/15)
Keep Space for Peace Week | List of Actions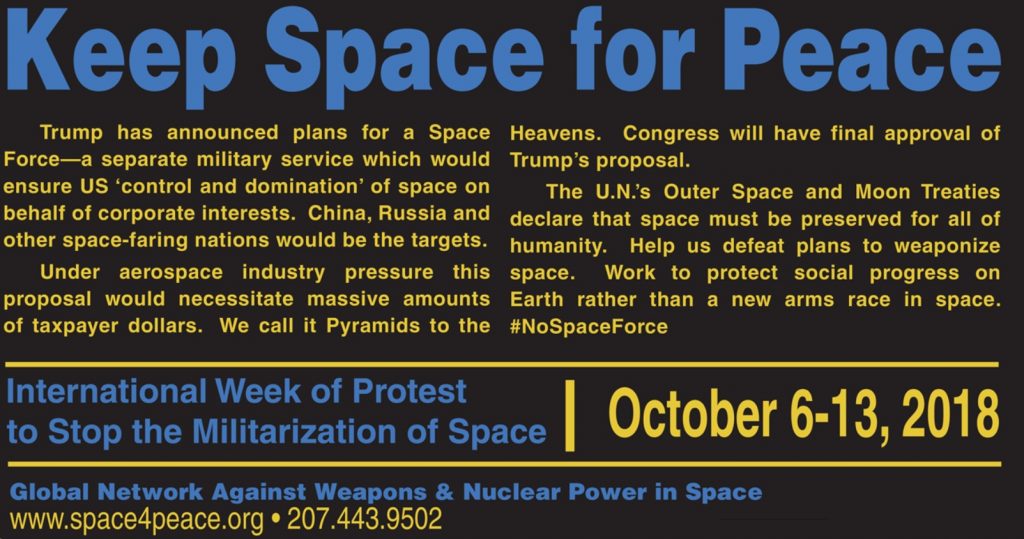 ---
(15.09.2018)
No Space Force | No Missile Defense | Close U.S./NATO Bases Worldwide
Stop Drones Surveillance & Killing | End Privatization of Foreign/Military Policy
Convert the Military Industrial Complex | Deal with climate change and global poverty
List in formation
Asheville, North Carolina (Oct 6-13) Ken Jones (VFP) will make the poster image of Trump Vader with the No Space Force message into a sandwich board and walk through downtown Asheville for an hour each day during Keep Space for Peace Week. Will pass out informational flyers and talk with whomever is moved to engage.           
Bath Iron Works, Maine (Oct 6) Vigil across from administration building on Washington Street (Navy Aegis destroyers outfitted with "missile defense" systems built at BIW) 11:30-12:30 am   Smilin' Trees Disarmament Farm (207) 763-4062
Creech Air Force Base, Indian Springs, Nevada (Sept 30-Oct 6) 4th Annual 'Shut Down Creech' drone resistance mass mobilization. Special Guests coming to Creech: Ray McGovern and Ann Wright. Contact: Toby Blomé:     or Eleanor Levine:
USAF Croughton, England (Oct 6) No Space Force march & rally at main gate of U.S. satellite communication and joint intelligence base. Space communications, drones, bomber guidance, missile defence and command & control functions. 12-4 pm. Oxfordshire Peace Campaign,
El Segundo, California (Oct 7) We will have a public screening of these GN online videos: (1) Say NO to Space Force and (2) 8-10 minutes each of Star Wars Part 1 and 2. Our main audience will be from Holy Faith congregation and our Justice & Mercy Commission. We will open it to the public, in particular to the peace community.    
King of Prussia, Pennsylvania (Oct 13) Noon, Outcry Against Trump's Space Force & Protest of the Militarization of Space at Lockheed Martin, 230 Mall Boulevard (Mall & Goddard Boulevards), directly behind the King of Prussia Mall. Large banners, enlarged posters of 'Trump Vader', the earth flag, and ceremony of 'Looking-UP' with songs and readings. Lockheed Martin is the U.S. #1 space warfare contractor, and the world's largest war profiteer. More at www.brandywinepeace.com or call 484-574-1148.
Lockheed Martin, Sunnyvale, California (Oct 12) Stop the Militarization of Space. As the world's largest arms seller, Lockheed Martin profits from war making, misery, death and destruction. Vigil from noon to 1:00 pm at N. Mathilda Ave. and W. Java Drive. Short talks by John LaForge (Nukewatch) and Marion Küpker (German anti-nuclear activist). Sponsored by the Pacific Life Community, local Catholic Workers, Vets for Peace and Code Pink. For info call Susan at 650-649-8690.
Menwith Hill, England (Oct 9) Weekly demonstration at the gates of U.S. NSA/NRO spy base, near Harrogate in North Yorkshire. Theme on Keep Space for Peace and saying NO to Space Force. 6:00 to 7.30 pm. All welcome. Martin Schweiger at
Milwaukee, Wisconsin (Oct 12) 6:30 PM, Informational Vigil to stop the militarization of space, at the Manfred Olsen Planetarium at UW-Milwaukee,1900 E Kenwood Blvd. Sponsored by Peace Action WI.
Milwaukee, Wisconsin (Oct 13) Noon-1 PM, Special Stand for Peace at the (astronaut) James Lovell Museum of Science, 815 N Lovell St, corner of 7th ST & Wells. Sponsored by Peace Action WI.
Mumbai, India (Oct 6-13) Dr. Leo Rebello, World Peace Envoy, and Registered World Citizen, has committed full campaign [6 to 13 Oct] in Bombay Schools, Colleges, public meetings, press conference, and social media discussion on No Space Force, No Missile Defense, Close U.S./NATO Bases Worldwide, Stop Drones Surveillance & Killing, End Privatization of Foreign/Military Policy, Convert the Military Industrial Complex, Deal with climate change and global poverty Leading to HOLISTIC HEALING & HOLISTIC DEVELOPMENT OF HUMANITY.
Naval Radio Transmitter Facility (NRTF) Niscemi, Sicily (Oct )The M.U.O.S. (Mobile User Objective System) is a U.S. Naval Computer and Telecommunications Station. A constellation of five satellites covers the whole world, whereas ground communication is made possible by four stations, one of which is located in Niscemi. Sicilians are worried about consequences of the installation on: human health, the ecosystem, the quality of agricultural production, right to mobility and to the development of territory, right to peace and security of our homeland and of its inhabitants.     Protest event to be organized by No MUOS
Olympia, Washington (Oct 5) Raging Grannies will perform for Artswalk at the Rachel Corrie mural downtown and perform one song about peace in space along with songs about other issues. I will have my star wars weaponry with me and fire at will. Holly Gwinn Graham
Santa Rosa Junior College, California (Oct 10) Public educational event on space issues by Physics teacher Lynda Williams entitled 'Space Force: A Force for Good or Evil?'     5:00 pm Room 1786, Shuhaw Building
Vandenberg AFB, California (Oct 3) Keep Space for Peace vigil at space warfare base at the Main Gate from 3:45 pm to 4:45 pm. For information contact Dennis Apel at 805-343-6322.
Space Week Co-Sponsor: Women's International League for Peace & Freedom, U.S. Section
Resources:
Sample Letter to Editor:
Dear Editor,
We must stop Trump's 'Space Force' proposal which is provocative and highly expensive. How about instead we fund National Health Service for all, ensure Social Security, Medicare and Medicaid are fully funded and begin to deal with our real problem – climate change? We don't need an arms race in space.
Global Network Against Weapons & Nuclear Power in Space
PO Box 652
Brunswick, ME 04011
(207) 443-9502
http://www.space4peace.org
http://space4peace.blogspot.com  (blog)
Thank God men cannot fly, and lay waste the sky as well as the earth. – Henry David Thoreau
---
(01.09.2018)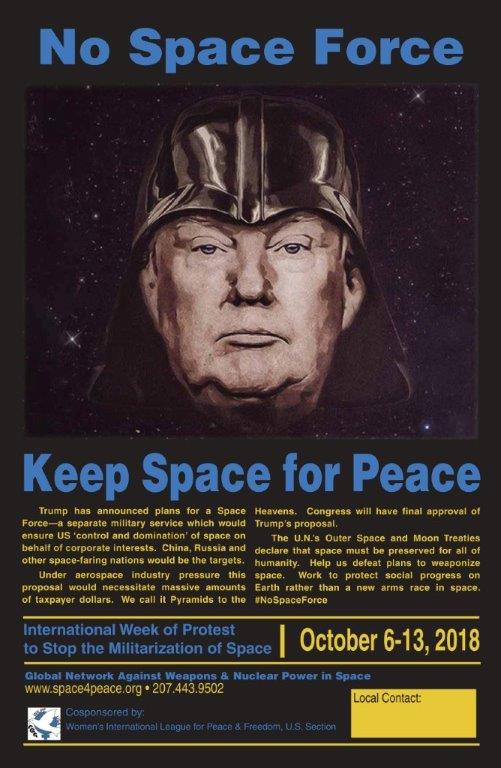 Dear Global Network friends, Our 2018 Keep Space for Peace Week (October 6-13) poster is now available online as well as in print form.
http://www.space4peace.org/actions/Keep%20Space%20for%20Peace%20Poster%202018.pdf
We urge you to help us spread word about the poster and our theme for Space week this year which is 'No Space Force' – the proposal by Trump to create a separate military service whose mission would be the 'domination of space' for US power projection and more.
The posters can be ordered by sending us $3 per copy or 12 copies for $10.  You can pay by sending a check to the Global Network at PO Box 652, Brunswick, ME 04011 or by using our secure credit card payment option on our website.  Just click here and in the comment section (Apply my donation to) say how many posters you wish to order.  https://space4peace.networkforgood.com/projects/33958-global-network-against-weapons-nuclear-power-in-space
Please let us know ASAP if your community will hold an event during space week.  Consider organizing a protest rally or vigil making the case that our tax dollars would be far better spent dealing with Climate change and growing poverty rather than furthering the aerospace industry desire to move the arms race into space.
You could also consider showing a space film during space week in your community.  We have quite a selection to pick from at the 'Space Video' section on our web site  http://www.space4peace.org
Many thanks for your support.
In peace,
Bruce K. Gagnon
Coordinator
Global Network Against Weapons & Nuclear Power in Space
PO Box 652
Brunswick, ME 04011
(207) 443-9502
http://www.space4peace.org
http://space4peace.blogspot.com  (blog)
Thank God men cannot fly, and lay waste the sky as well as the earth. – Henry David Thoreau