2022/09/11 webinar 2pm Pacific | 4pm Central | 5-7 pm Eastern


Fight Against Imperialist Wars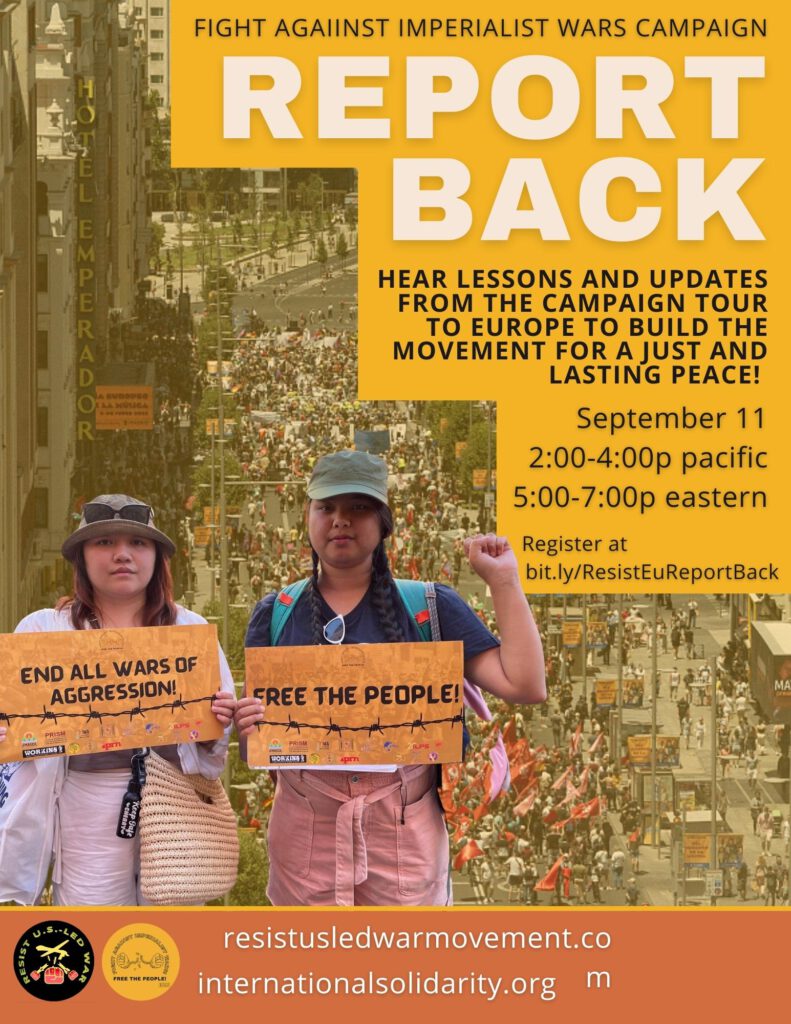 Register: bit.ly/ResistEuReportBack
Resist US-Led War invites you to
Fight Against Imperialist Wars: Campaign Report-back
September 11, 2022
2-4 PM Pacific | 4-6 PM Central | 5-7 PM Eastern
Register at bit.ly/ResistEuReportBack
Hear lessons and updates from the campaign tour to Europe to build the movement for a just and lasting peace!
From late June to early July, Resist US-Led War members integrated with peace advocates, workers' organizations, national liberation, and revolutionary solidarity organizations in Europe and bore witness to their struggles against imperialist wars.  We also participated in conferences and joined thousands of people at protest actions against the NATO Summit in Madrid. This reaffirmed to us the need to unite with all possible forces to end all wars of aggression.
Reaffirming that international solidarity is key in achieving just and lasting peace, anti-war organizations look forward to building and connecting peoples' movements across the globe with a common goal of winning the people's war against imperialism.  Join us to hear how we can build the strength needed to make this goal a reality.
Register at bit.ly/ResistEuReportBack
Facebook event I https://fb.me/e/2vVXGu6gP