2022/06/21 Live Meeting Vienna, Austria



US civil society at the TPNW First Meeting of States Parties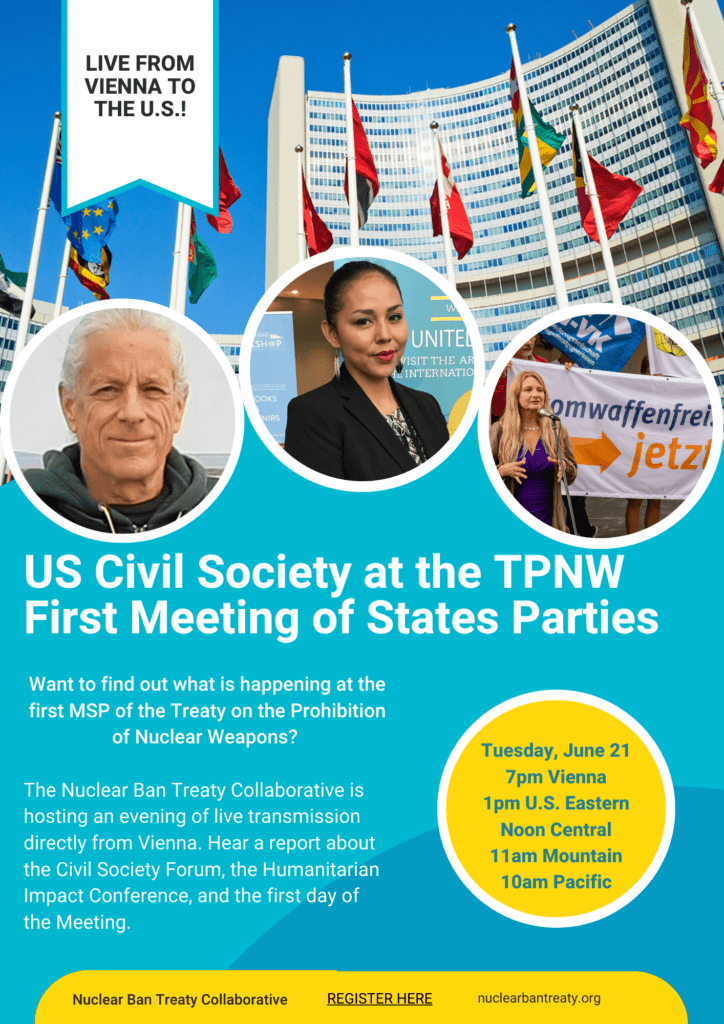 Want to find out what's happening at the first Meeting of States Parties to the Treaty to the Prohibition of Nuclear Weapons in Vienna? The Nuclear Ban Treaty Collaborative is hosting a live transmission directly from Vienna.
Register and join us tomorrow, Tuesday June 21, 2022 for live conversation with collaborators on the ground in Vienna at the 1MSp at 7pm CET (10am PT, 11am MT, noon CT, 1pm ET).
Just in! Benetick Kabua Madison (Project Specialist for Youth, Climate, and Nuclear Issues at Marshallese Educational Initiative) will join Janene Yazzie, John LaForge, and Marion Küpker for this live transmission. Hear a report about the Civil Society Forum, the Fourth Conference on the Humanitarian Impact of Nuclear Weapons, and the first day of the 1MSP.

Please register and spread the word!
See you on Tuesday!, Kelly Lundeen, Nukewatch
Speakers include:
Just in! We're so glad that Benetick Kabua Madison will join the panel —

Benetick Kabua Madison is Project Specialist for Youth, Climate, and Nuclear Issues at Marshallese Educational Initiative, a nonprofit organization that serves the Marshallese community, raises awareness of Marshallese culture, and facilitates intercultural dialogue to foster positive social change. Before moving to Arkansas' Ozark Mountains, Benetick Kabua Maddison and his family lived in the low-lying island nation of the Republic of the Marshall Islands. As a result of high unemployment and limited opportunities, Benetick and his family relocated in 2001 to Springdale, Arkansas, where the largest concentration of Marshallese resides outside of the Marshall Islands.
For more than a decade, Benetick has worked with his peers and Marshallese students and their families on projects to increase retention rates and to promote Marshallese culture and history, as well as on issues affecting his people and homeland. Benetick was the keynote speaker at the I2SL Annual Conference in October 2019, where he spoke about the impact of climate change in the Marshall Islands, was featured on the Nuclear Voices website connecting advocacy groups to nuclear frontline community members (launched January 2020), served as a panelist on the Norwegian Peace Association's webinar, "Nuclear Weapons Testing, Consequences and Risks," in June 2020, and spoke to the impact of forced relocation and the current dangers of Runit Dome and climate change on the Marshallese people during the virtual commemoration of the 75th anniversary of the bombings of Hiroshima and Nagasaki.
Benetick graduated from Springdale High School and currently attends Northwest Arkansas Community College.
Janene Yazzie is a community organizer and human rights advocate that has worked on development and energy issues with Indigenous communities across the United States for over 14 years. She served as co-convener of the Indigenous Peoples Major Group (IPMG) to the United Nations High Level Political Forum on the 2030 Sustainable Development Goals from 2018-2021. She is coordinator of the Nuclear Truth Project Protocols Working Group.
Marion Küpker, spokeswoman for the 'Büchel is everywhere! nuclear weapons-free now' campaign, peace officer on nuclear weapons at the Fellowship of Reconciliation Germany, and international coordinator in the DFG-VK against nuclear weapons. Marion currently has an appeal pending in the European Court of Human Rights in Strasbourg, France, stemming from a conviction in Germany for civil resistance at the Büchel nuclear weapons base.
John LaForge is a co-director of Nukewatch, a nuclear watchdog group in Wisconsin, and edits its Quarterly newsletter. He is co-editor with Arianne Peterson of Nuclear Heartland, Revised: A Guide to the 450 Land-Based Missiles of the United States. An advocate of nonviolent direct action, he is a regular contributor to CounterPunch and PeaceVoice where he writes on nuclear weapons, nuclear power, militarism and nonviolent resistance.