2022/06/10-12 Tijuna, Mexico


Workers Summit of the Americas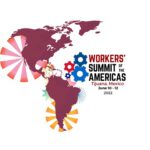 The United States is organizing a Summit of the Americas in Los Angeles. They have excluded Cuba, Nicaragua and Venezuela.  As a result many countries have refused to attend.
As an alternative, there will be a Workers' Summit of the Americas, which UNAC and many other organizations support, which will be held in Tijuana on June 10 – 12. Our conference is a place where the countries that are besieged by the US and who have been barred from participation will participate.
Please join us in Tijuana:
For more information and to register, please go here: