TPNW RATIFICATION – BAN ON KILLER ROBOTS AND WEAPONIZED DRONES
TPNW-killerRobots-NGO-HaavistoLetter-22.1.2022.pdf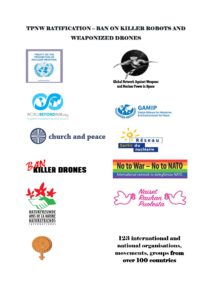 Dear peace friends all over the world
Please find as attached pdf, the letter that your organisation – No to NATO network – has signed to the foreign minister of Finland, Pekka Haavisto, in regard to TPNW, killer robots and weaponized drones.
The letter has also been sent to the president of Finland, all other ministers, all members of the Finnish Parliament as well as to the presidency of the UN Human Rights Council (HRC).
We hope to be able to forward the letter also to the ministers/officials responsible for HRC matters in all the 47 HRC member states.

The letter has been signed by some 120 organisations – also some prominent international organisations –  from over 100 countries.

It is available in English, German, French, Spanish, Swedish, Finnish in Russian on the Naiset Rauhan Puolesta (Women for Peace) homepage: 
The letter can freely be distributed  in all possible ways to promote peace.