2022/04/03 Rome, Italy 10 am CEST


FOR A EUROPEAN MOVEMENT AGAINST WAR!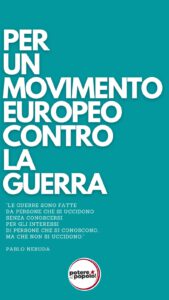 "Wars are made by people
who kill each other without knowing each other
for the interests
of people who know each other
but who do not kill each other."
Pablo Neruda
https://poterealpopolo.org/wp-content/uploads/2022/03/For-a-European-movement-against-war_April-3_ENG.pdf
We are launching an international assembly in Rome on Sunday April 3, 2022, starting at 10 a.m., with the participation of representatives from political forces from across Europe fighting to prevent an escalation in the conflict. More information will follow soon!