2022/03/01 online 8-9pm EST


Ukraine Crisis: NO to NATO, Yes to Peace with Russia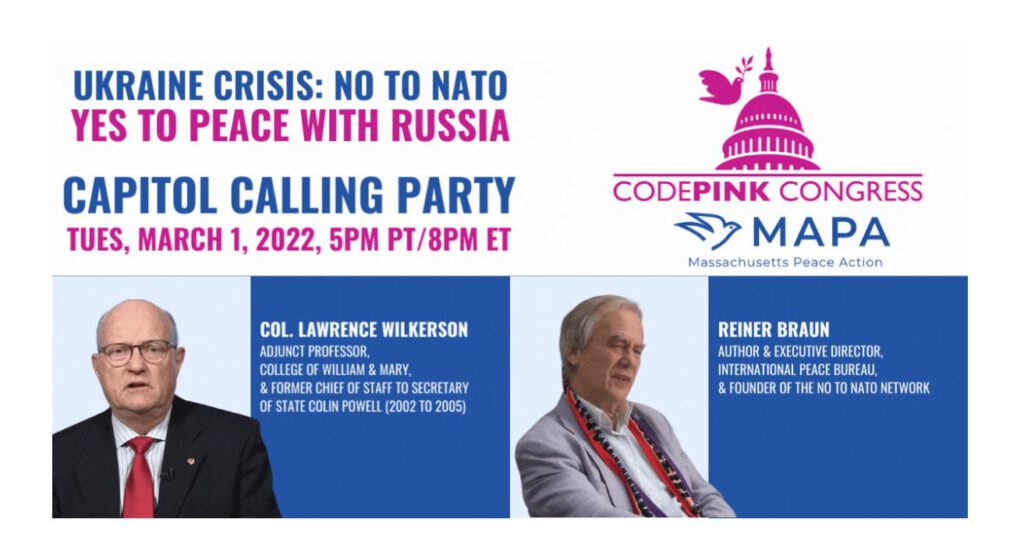 https://www.codepink.org/03012022
Ukraine Crisis: NO to NATO, Yes to Peace with Russia
Tue March 1 @ 8:00 pm – 9:00 pm EST
Join CODEPINK Congress & Massachusetts Peace Action for the
third event in our SPECIAL SERIES ON FOREIGN POLICY!
Tensions between the U.S. and Russia are at their highest in many years. The U.S. insists that Ukraine may join NATO in the future while Russia insists that it should not. NATO has become a worldwide military alliance as the U.S. pursues its policy of a new Cold War against Russia. Will Ukraine be recognized as a neutral nation or will the U.S. maintain its goal of integrating Ukraine into NATO? Can Europe turn towards a common security policy before NATO's June summit in Madrid?
Featured Guests:
Col. Lawrence Wilkerson is an adjunct professor of government and public policy at the College of William and Mary and the former Chief of Staff to Secretary of State Colin Powell (2002 to 2005). He is a critic of U.S. foreign policy surrounding the Iraq and Afghanistan Wars, Iran, and the new Cold Wars with China and Russia, and asserts that the U.S. is not a democracy but a war state that forces its will on the global community. In 2020, Wilkerson worked on bipartisan projects to prepare for the possibility that a defeated Donald Trump would refuse to leave office.