2022/01/20 online 18 bis 20 Uhr


Krieg um die Ukraine?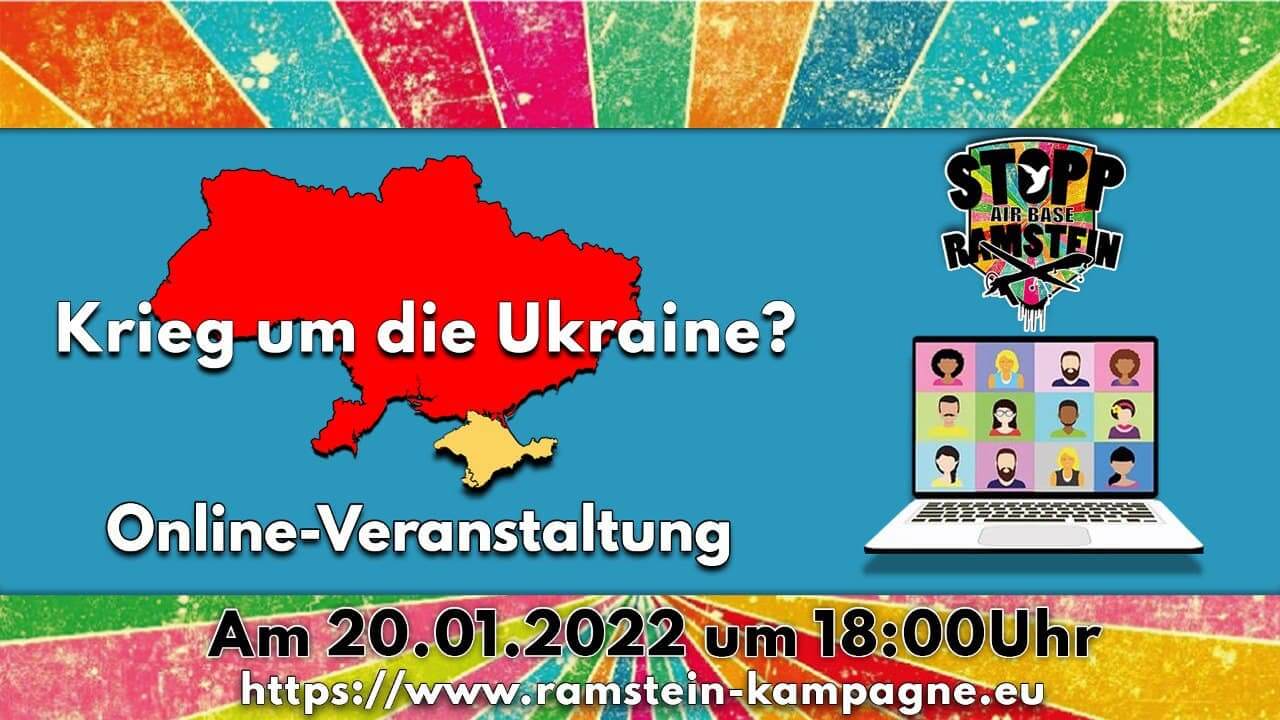 Die Proteste in der Ukraine – sozial berechtigt und doch von rechts und der USA/NATO gesteuert – führten zum Putsch und zum bewaffneten Konflikt in der Ost Ukraine, der als Protest gegen den Putsch in Kiew begann und von der neuen rechten Regierung in der Ukraine brutal unterdrückt wurde.
Täglich sterben an den Frontlinien Menschen, ein Friedensprozess ist nicht in Sicht. Minsk2 mit den vereinbarten Schritten, die im Wesentlichen von der ukrainischen Regierung nicht erfüllt werden, ist das Papier kaum wert, auf dem sie geschrieben sind.
Die Krise in und um die Ukraine dient den NATO-Staaten als Vorwand, Legitimation und Begründung für eine massive Konfrontation gegenüber Russland und Aufrüstung. Die Krise in und um die Ukraine ist nicht vom Himmel gefallen: der Westen hat sie orchestriert, durch die NATO-Osterweiterung und mit massiven finanziellen und politischen Mitteln vorbereitet und illegal organisiert.
Es ging und geht um die Umzingelung Russlands, aber auch um massive Aufrüstung des Westens, um fremde Truppen an der russischen Grenze, seien es Englische, kanadische oder litauische. Russlands Antwort folgt, ist aber auf allein russisches Gebiet orientiert.
Vergessen ist auch nicht, dass der NATO-Militärhaushalt bei ca. 1 Billion liegt, der Etats Russlands bei 65 Milliarden. Wer attackiert wohl wen!
Es gibt Alternativen und die heiße Kooperation, Dialog – auch zur Lösung der Krim Herausforderungen – und Politik der gemeinsamen Sicherheit und Abrüstung.
Wir wollen bei der Veranstaltung die Dynamik der Kriegsgefahr verdeutlichen aber auch Alternativen zu einer friedlichen Lösung aufzeigen.
mit Reiner Braun, IPB, No to NATO
Moderation Kristine Karch, Stopp Air Base Ramstein, No to NATO
Die Veranstaltung ist kostenlos.
Wir bitten um Anmeldung unter , Stichwort: Ukraine.
Nach Anmeldung senden wir dir eine Bestätigung und den Zugangslink für die Teilnahme.