2021/04/30 US Air Base Ramstein, Germany from 2pm


Updated information about the bicycle marathon on April 30 around Air Base Ramstein (update 25.04.2021)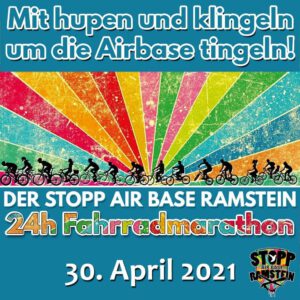 As part of the 1st International Day of Action against Foreign Military Bases*.
Due to Corona restrictions, the marathon will be divided into 2 stages: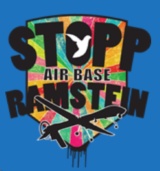 Friday April 29 from 3pm to 8pm and Saturday May 1 (Labor Day) from 9am to 3pm we will bike around Air Base Ramstein.
At the start (Friday) and finish (Saturday) points we have set up an information station, here we will also contact other protest actions against military bases via zoom and live stream via www.facebook.com/stoppramstein
A warm hello to all motivated peace activists!
Despite the curfew and other obstacles that are put in our way in these times, we are determined to go through with our action.
For this we had to restructure our original plan quite a bit. Unfortunately, our idea of the 24h marathon is no longer possible with the measures currently in place. Accordingly, we have adjusted the plan and here is the result:
The event will start at 14:00.
We have moved our meeting point to our now only supply station at the bus station (ZOB, Bahnhofstr. Ramstein) in Ramstein-Miesenbach. There we will have a small kick-off rally and at 15:00 we will start our first round together. During the ride around Ramstein Air Base we will be accompanied by a police guard. We will do 2 tours that day, the first one from 15:00 to 17:30 and the second one from 17:30 to 20:00.
After the last round, the meeting will end. Then it gets a little tricky, because there is (currently) a nighttime curfew in the Kaiserslautern district and the city of Kaiserslautern starting at 9:00 pm. This means not only that we are not allowed to be outside from then on, but also that people who do not live in the district of Kaiserslautern, or the city of Kaiserslautern, must have left it. 15 km further, in the district of Kusel or even in Saarland (only a quarter of an hour away by train), the curfew – according to current information – no longer applies. Unfortunately, everyone has to find a place to stay for the night on their own.
The next morning we will gather at 8:00. At 9:00 we will start our rounds on the bike again. On Saturday, the information and supply station will be set up at the parking lot of the Ramstein Air Base air show victims memorial. From there we will do 2 laps, again with police escort. The first tour will last approximately from 9:00 am to 12:00 pm and the second then from 12:00 pm to 3:00 pm. At the end of the last lap we will do a "lap of honor" around the traffic circle (Duffield Circle)in front of the Westgate of Ramstein Air Base and then drive together into the finish area of the parking lot.
At the kick-off rally starting at 2:30 p.m., Alexander Ullrich, MdB Die LINKE; Connie Burkert-Schmitz, Pfälzer Initiative "Entrüstet Euch" and Reiner Braun for the Stop Air Base Ramstein campaign will share a few words with us. Konstantin Schneider from the Stop Air Base Ramstein campaign will send the cyclists:inside on the tour at 3:00 p.m. and will of course also ride along.
There will be no obligation to wear masks on the bicycles, as long as we keep enough distance from each other.
At the final rally in the parking lot at the memorial, Konstantin Schneider will again welcome us. Afterwards Konnie Schmidt for the Kamapgne Stopp Air Base Ramstein and Roland Vogt award winner of the Friedenspreis; Kristine Karch for the international network No to NATO and Achim Müller for the Palatinate initiative "Entrüstet Euch" will speak.
Peter Bruna will accompany us musically at both rallies.
We are not allowed to provide you with food, but of course everyone is free to bring their own provisions and store them at the supply station.
You can buy vests with the Stop-Ramstein logo for 7 € each and our beautiful flags for 15 € each online at https://www.quiddity.be/ or on site.
We are looking forward to seeing you again and to a small but nice action with you! Despite all odds, we will not miss the opportunity to take to the streets and loudly express our protest against the drone war and Ramstein Air Base.
PS: Even if you decide to participate spontaneously, we ask all those who have not yet registered to register in advance and let us know when you will arrive, how you will get there (public transport or car), whether you need a place to stay overnight (we can only provide tips, we can't get you one), whether you want to travel on both days, and whether you can support us at the info point and with set-up and dismantling. Send us an email to
More information on
www.ramstein-kampagne.eu/fahrradmarathon/
www.no-to-nato.org/2021/03/2021-04-30-us-air-base-ramstein-germany24-stunden-fahrad-staffel-marathon/
Questions to
Your action group bicycle marathon
* First International Day of Action against Foreign Military Bases April 30th
organized by the campaign Stopp Air Base Ramstein, the international "No to War – no to NATO" network, the International Peace Bureau with the support of GCOMs