2021/03/07 zoom webinar 11am PT / 2pm ET / 8pm CET


NATO and The Patriarchy with Ray Acheson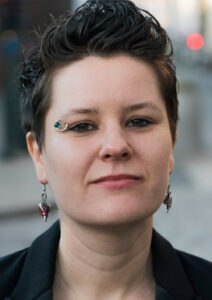 Webinar: "NATO and the Patriarchy" with Ray Acheson
Sunday, March 7
(11am PT/ 2pm ET / 8pm CET)
In celebration of International Women's Day
Ray Acheson is the Director of Reaching Critical Will, the disarmament program of the Women's International League for Peace & Freedom (WILPF).
Join us in our discussion to challenge NATO's patriarchal militarism, military spending and plan for 2030. Following Ray's talk we will hear briefly from five discussants: Kristine Karch (Germany), Ann Wright (United States), Rae Street (UK), Ingela Mårtensson (Sweden) and Tamara Lorincz (Canada). The webinar is organized by the No to War-No to NATO Network (
www.no-to-nato.org
) and endorsed by the Canadian Voice of Women for Peace, Hawai'i Peace and Justice, and Veterans for Peace Chapter 113-Hawaii, Women for Peace in Sweden, Women for Peace in Finland, Women Against Nuclear Power, and Les Artistes pour la Paix.
*Please bring a small sign "Women Against NATO" or "No to NATO" or "Men Against NATO" to show when we take a group photo during the webinar.
Join Zoom-Meeting
https://us02web.zoom.us/j/85306133416?pwd=Y2hOcTFITGVPdnhHbkRnSFJJblN5QT09
Meeting-ID: 853 0613 3416
Passcode: 169434
Test zoom connection: https://zoom.us/test