2021/01/24 | 15-17 h UTC+1


Central Panel
Universal Dis­ar­ma­ment for So­cial and Eco­lo­gi­cal Trans­for­ma­tion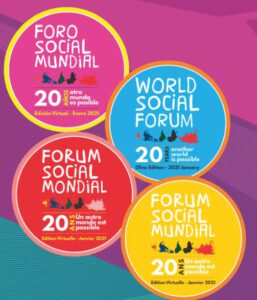 Univer­sal Dis­ar­ma­ment for So­cial and Eco­logi­cal Trans­for­ma­tion
January 24th, 2021 at 15:00 -17:00 CET (UTC+1)
Central Penal Discussion
Join: https://zoom.us/j/94334029186?pwd=UkU1cGU5TkxWVjlXMnR2WjdGOXN1dz09
Speakers:
Alexander Ač

(Slovakia), Institute of Research on Global Change

Ann Wright

(Hawaii, USA), CODE PINK and Veterans for Peace

Binalakshmi Nepram

(India), Manipur Women Gun Survivors and IPB Board

Jan Kavan

(Czech Republic) ex Minister of Foreign Affairs and chairman of the UN-General Assembly 2002/2003

Malala Yousafzai

(Pakistan), Nobel Peace Prize Laureate

Owen Tudor

(UK), Vice-Secretary General of ITUC

Piedad Cordoba

(Columbia), Human Rights Lawyer and Ex-Senator of Colombia

Reiner Braun

(Germany), International Peace Bureau (IPB)
Moderator: Leo Gabriel (Austria-Mexico), Journalist and Anthropologist, Prague Spring II network, member of the IC of the WSF.
Description:
It is impossible to achieve a Social and Ecological Transformation (which is the main goal of this WSF) without peace. This implies first of all a universal disarmament for political, economic, environmental and social reasons. This webinar will explore the strategies of the social and environmental movements for a demilitarisation of the political structures in the aftermath of the pandemic through the discussion of action oriented proposals.