FACTSHEET US-Operations at Shannon Airport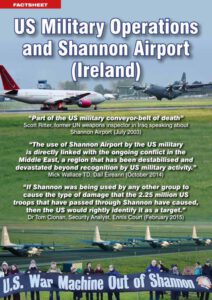 Factsheet launched by
Shannonwatch campaigns to end the US military use of Shannon Airport and to demand accountability for the
airport's complicity in human rights abuse and war. It opposes the participation of Ireland in all regional military
alliances and structures, including those of the EU and NATO. It holds peace demonstrations at Shannon Airport
on the second Sunday of every month from 2 to 3pm.
The Peace & Neutrality Alliance campaigns for the right of the Irish people to have their own independent foreign
policy, with positive neutrality as a key component, pursued primarily through a reformed Unite Nations.
US Operations at Shannon 4pp Web.pdf