Foreign minister meeting April 4th, 2019 (Video)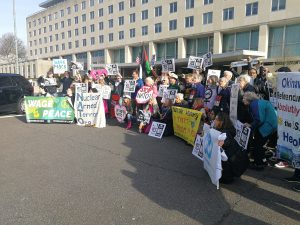 The foreign minister meeting took place at State Department / Harry S. Truman Building. At the beginning, when the  foreign ministers arrived, we could demonstrate without barriers, later they put some between us and the entrence, because some of us made a sit-in on the street.
Here a selection of some short video clips.
Ben Grosscup "We Say NATO's Got to Go"

Impressions

Ben Grosscup "We shall not be moved"

Impressions

Impressions

Impressions

Impressions

Speach Reiner Braun, Co-president IPB, ICC-memberr No to war – no to NATO

Luci Murphy & Ben Grosscup "We shall no be moved"