Logistical information: Actions around the NATO summit
CONFERENCE: NO TO WAR – NO TO NATO –YES TO REFUGEES
Warsaw, 8-10.07.2016
Venue, travel and accommodations information
The debates, plenary debate and workshops will all take place at the Conference Center "Kopernik" Kopernika 30, 00-336 Warszawa).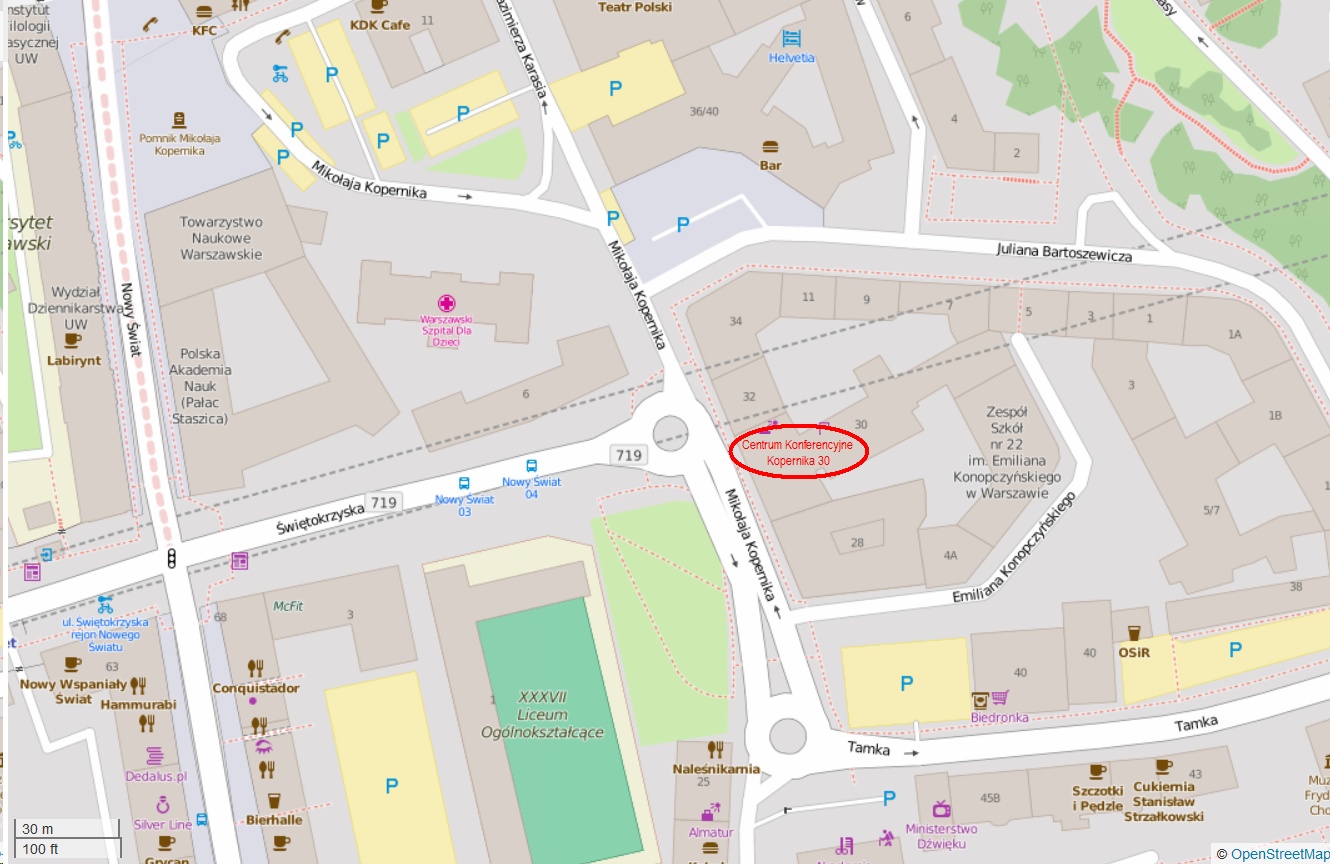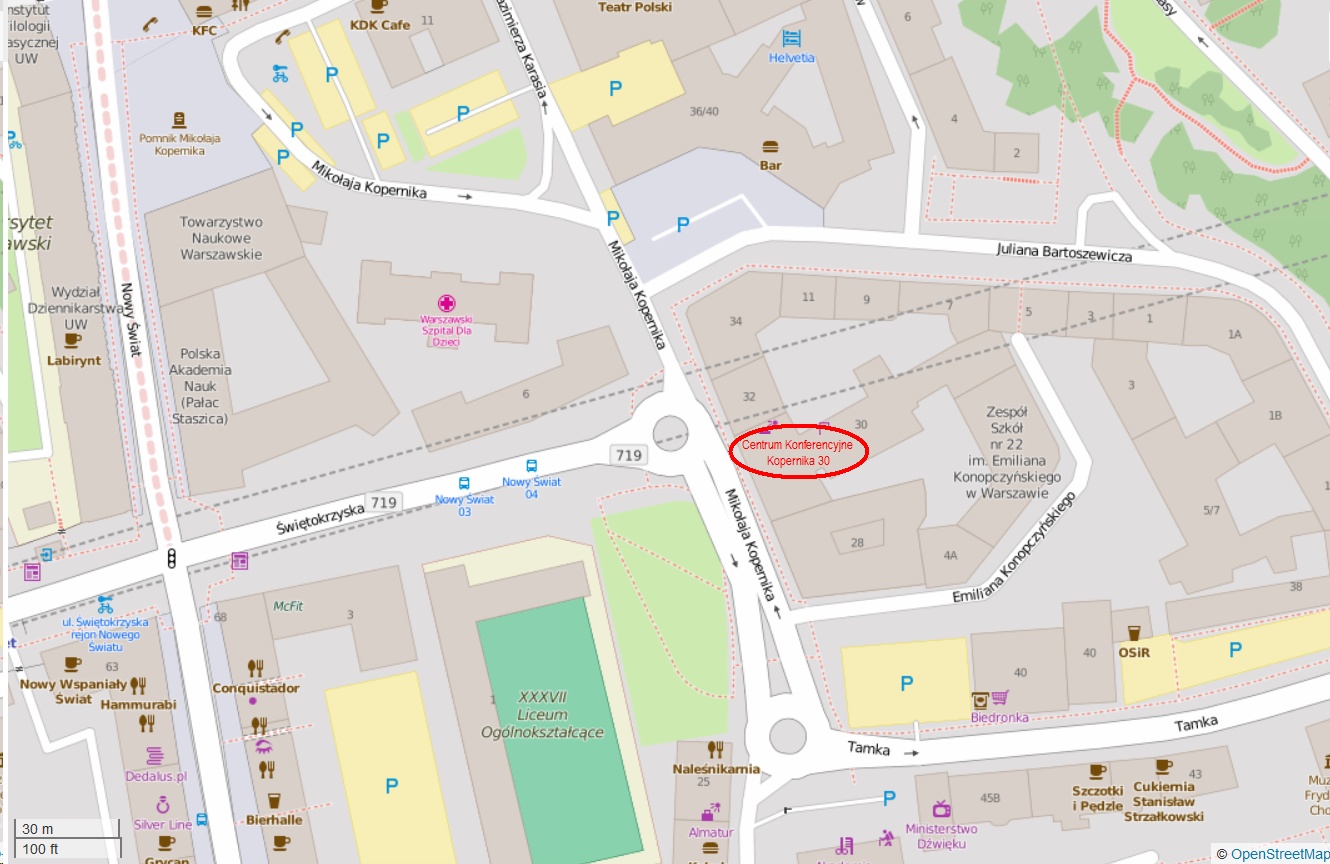 OpenStreetMap® is open data, licensed under the Open Data Commons Open Database License target="_blank" (ODbL) by the OpenStreetMap Foundation (OSMF).
The conference center is located in the Old Town. Close the Warsaw University Campus, right next to the All-Poland Alliance of Trade Unions (OPZZ) building. The best way to reach the conference center is to travel by metro to the Station "Nowy Świat – Uniwersytet" . You can also take the bus and get out on "Nowy Świat" bus stop (lines 102 and 105).
The Warsaw public transportsystem
The Warsaw public transport system has its web page in English, there you can find all necessary information about buses, trams, the metro system and tickets.  You can also check the best route to get from out place to another in Warsaw ("travel planer").
http://www.ztm.waw.pl/index.php?l=2
Warsaw Central Railway Station
For those of you who will be traveling to Warsaw by train – the Conference Centre "Kopernik" is located about 30 minutes' walk from the Warsaw Central Railway Station.  You can also take a bus or travel by metro.
https://www.google.pl/maps/dir/Warszawa+Centralna,+Aleje+Jerozolimskie+54,+Warszawa/Centrum+Konferencyjne+Kopernika,+Warszawa/@52.2327323,21.0035996,15z/data=!3m1!4b1!4m14!4m13!1m5!1m1!1s0x471ecc8d65233559:0xeb0bc9f267c74ed9!2m2!1d21.003318!2d52.228777!1m5!1m1!1s0x471ecc5f3f691c8f:0x3cd9fb3eff98cbef!2m2!1d21.0204411!2d52.2373125!3e2?hl=pl
Airport
For those of you traveling by plane. The best way to get from the Warsaw Chopin Airport to the city center is either by local train or bus. The local train goes to the Warsaw Central Railway Station. Bus number 175 will take you to the Old Town (bus stop Ordynacka, after that a few minutes' walk to conference center). Those who will fly to Modlin Airport – there is a shuttle bus (Modlinbus) taking passengers to Warsaw city center:
http://en.modlinairport.pl/passenger/access/modlinbus.html
Hostels
There are many hostels in Warsaw were you can seek rooms for the alter-summit.
The five listed below are only examples, located the closest to the conference center:
The Warsaw Hotel
http://www.thewarsawhostel.com/  (it is located in the same building as the conference center)
eMKa hostel
Hostel Helvetia
http://www.hostel-helvetia.pl/
CAMERA Hostel
Oki Doki Hostel
All hostels listed above  have web pages in English.
Hostels map
https://www.google.pl/maps/search/hostels+warsaw+kopenika/@52.2371807,21.0136698,16z
Hotels
There are many hotels of different standard and price located in the area of the city center and old town, that can be found on-line.
https://uk.hotels.com/search/search.html?resolved-location=CITY%3A1036999%3AUNKNOWN%3AUNKNOWN&destination-id=1036999&q-destination=Warsaw,%20Poland&q-rooms=1&q-room-0-adults=2&q-room-0-children=0&sort-order=DISTANCE_FROM_LANDMARK
Some suggestions of hotels located in the area:
Ibis Old Town
http://www.ibis.com/gb/hotel-3714-ibis-warszawa-stare-miasto-old-town/index.shtml
Hotel Gromada Warszawa Centrum "Dom Chłopa"
http://www.gromada.pl/en/forms/enquiry_new.php?HotelID=1125480&Segment2=5999&_PageID=26321
Zgoda Apartments Hotel
http://www.desilva.com.pl/Zgoda/index_en.htm
Shops and restaurants
There are many grocery shops and restaurants and fast-food bars in  area of the Old Town. As it is one the most important tourist part of Warsaw many of the restaurants can be considered expensive. For less expensive full lunch meals it is advisable to seek out so called "milk bars" ("bary mleczne") that serve typical Polish meals for reasonable prices.
In case you need more information please contact us:
0048 607413070
CONFERENCE ORGANIZERS
Alliance in Homage of the Victims of Militarism, Effata Association Poland, Social Justice Movement Poland, Stop the War Initiative Poland, Warsaw Anarchist Federation, Workers Democracy Poland, International Network No to War – No to NATO
With the support of: European Left