2023/01/25 zoom webinar 11:00 am CET – new date !!!


REACHING A JUST AND LAS­TING PEACE IN UKRAINE: A CON­VER­SA­TION WITH JEFFREY SACHS
The new date for the event is Wednesday, 25 January 2023 at 11.00 Central European Time. (update 10.12.2022)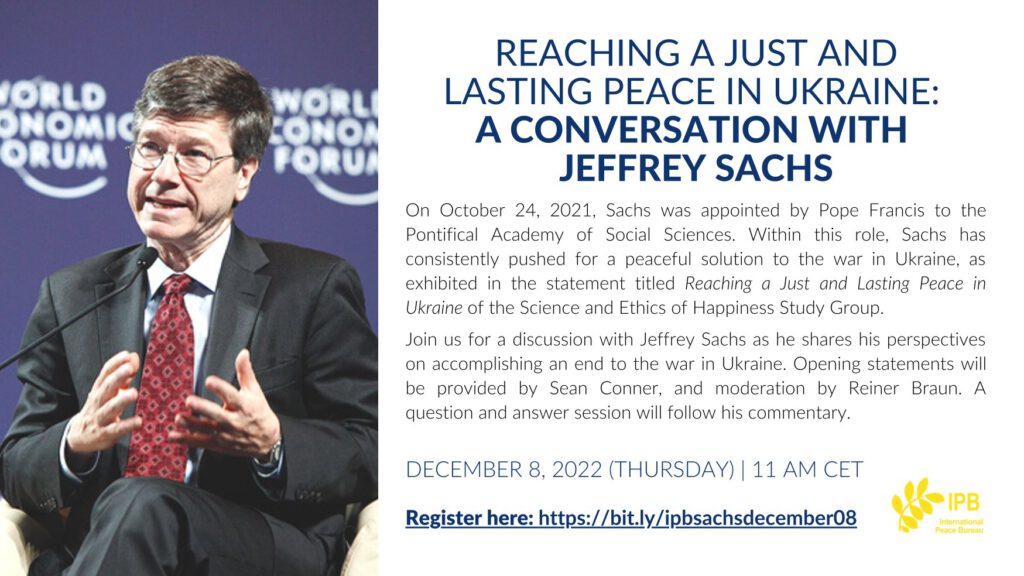 Please register in advance: bit.ly/ipbsachsdecember08 (zoom link)
December 8, 2022 | 11am CET
REACHING A JUST AND LASTING PEACE IN UKRAINE:
A CONVERSATION WITH JEFFREY SACHS
On October 24, 2021, Sachs was appointed by Pope Francis to the Pontifical Academy of Social Sciences. Within this role, Sachs has consistently pushed for a peaceful solution to the war in Ukraine, as exhibited in the statement titled Reaching a Just and Lasting Peace in Ukraine of the Science and Ethics of Happiness Study Group.
REGISTER HERE: HTTPS://BIT.LY/3T60B1R (zoom link)
Join us for a discussion with Jeffrey Sachs as he shares his perspectives on accomplishing an end to the war in Ukraine.
Opening statements will be provided by Sean Conner, and moderation by Reiner Braun.
A question and answer session will follow his commentary.