2022/10/26 zoom webinar 8pm ET


The Think Tank-Military-Industrial Complex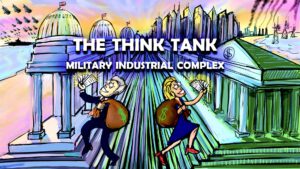 WAR INDUSTRY
RESISTERS

NETWORK
Greetings, fellow war-industry resisters!
A friendly reminder: Our next WIRN webinar is coming up next week – Oct 26, 8 pm ET.
with the presenters: Ben Freeman and Brett Heinz
Register here: https://masspeaceaction.org/event/the-think-tank-military-industrial-complex/
The role of think tanks in the military-industrial complex (MIC) is essential, but also little understood. Often funded by war corporations, they provide the grist for the mill of the intellectual arguments and slanted worldview that support and propel US imperialism. They also serve the revolving door system for military and political officials as they come and go from positions of power.
This webinar gives both an overview of those think tanks that are part and parcel of the MIC as well as a case study of one particularly influential example, the Center for a New American Security (CNAS). The focus will be on how certain think tanks function as agents in the information wars that support our endless war making.
The two presenters for this webinar both work for think tanks themselves and have studied this issue in depth. They will provide information not commonly understood and respond to questions.
Presenters:

Ben Freeman is a Research Fellow at the Quincy Institute for Responsible Statecraft. His work focuses on how foreign governments seek to influence American government and politics. This work builds upon his book, The Foreign Policy Auction, which was the first book to systematically analyze the foreign influence industry in the U.S. Previously, he was Director of the Foreign Influence Transparency Initiative at the Center for International Policy.
Before launching the Foreign Influence Transparency Initiative, Freeman was the Deputy Director of the National Security program at Third Way. Prior to joining Third Way, he served as the National Security Fellow at the Project On Government Oversight from 2011 to 2013, where he spear-headed creation of the "Foreign Influence Database," a repository of propaganda distributed by foreign agents that was previously unavailable online.
Freeman earned his Ph.D. from Texas A&M University, completing a dissertation that investigated the ability of foreign governments to effectively lobby for economic and military assistance from the United States. Upon graduation, Freeman taught in the Political Science Department and the Bush School of Government and Public Service at Texas A&M. His work has appeared in numerous media outlets, including the New York Times, Politico, and CNN, and he has testified before the Senate Armed Services Committee.
 

Brett Heinz is the Program Assistant for the international team at the Center for Economic and Policy Research (CEPR). His research focuses on the intersections of political inequality, economic policy, and international relations. His writing has appeared in outlets like The American Prospect and Responsible Statecraft. In 2021, he co-authored the report "The Military-Industrial-Think Tank Complex: Conflicts of Interest at the Center for a New American Security" for the Revolving Door Project.
Register here: https://masspeaceaction.org/event/the-think-tank-military-industrial-complex/