2022/11/03 zoom webinar 7:00pm ET


First-Hand Ob­ser­va­tions from the War in Ukraine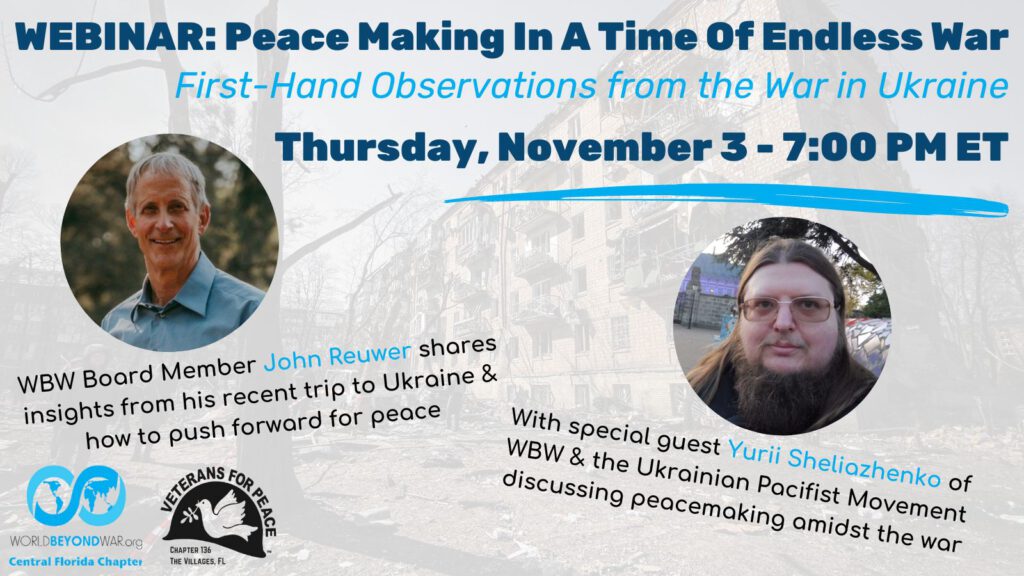 Register for the webinar here (zoom-link).
WBW board member John Reuwer has recently returned home from Ukraine. On November 3 at 7:00pm ET, John will report back on his first-hand observations of the ongoing conflict and share his insights on how we can move forward to push for peace in Ukraine and worldwide. Also joining us for this special webinar is Yurii Sheliazhenko, WBW board member and executive secretary of the Ukrainian Pacifist Movement, based in Kiev. Yurii will speak about peacemaking amidst the war in his country. Register for the webinar here (zoom-link).
What: Webinar: Peace Making In A Time Of Endless War: Where Do We Go From Here?
When: Thursday, November 3 at 7:00 PM Eastern Time
How to join: Register here for the Zoom link
Share the event on Facebook!
John traveled to Ukraine with the Peace Action Training Research Institute of Romania (PATRIR). While there, he met with Ukrainian peace activists like Yurii to see what they are facing and how violence and damage from the war can be mitigated. Hundreds of cases of nonviolent resistance have been documented throughout Ukraine, Russia, and Belarus. John will share what he learned by talking with these activists, and how we can amplify nonviolent acts of resistance to bring this war to an end. RSVP to hear from John & Yurii about what's happening on the ground in Ukraine and how we can help.
This webinar is sponsored by the WBW Central Florida Chapter and the Veterans For Peace, The Villages, FL. Chapter 136.
We hope to see you then!