2022/10/04 webinar 7PM CEST/ 5PM CAT/1PM EDT


Comment l'Occident a militarisé et appauvri le continent Africain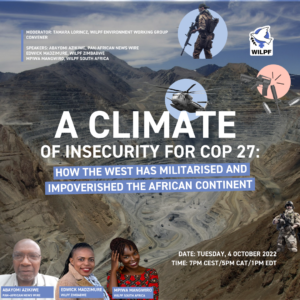 Insrivez-vous: https://bit.ly/3eVqB1h (zoom link) 
WEBINAR: "Un climat d'insécurité pour la COP 27 : comment l'Occident a militarisé et appauvri le continent Africain"
Un climat d'insécurité pour la COP 27 : comment l'Occident a militarisé et appauvri le continent Africain
Rejoignez-nous pour le deuxième webinaire de notre série "Un climat d'insécurité pour la COP27" où nous explorerons comment les alliances militaires telles que l'OTAN et l'US AFRICOM militarisent le continent africain. L'Afrique est le continent le plus durement touché par la crise climatique et connaît déjà de graves sécheresses, la désertification, l'aggravation de la chaleur, le manque d'eau, et l'insécurité alimentaire. Au lieu d'aider l'Afrique à s'adapter et à devenir plus résiliente, les États-Unis et leurs alliés de l'OTAN exportent des armes, forment des forces de sécurité, mènent des opérations militaires déstabilisantes et augmentent les tensions, créant ainsi un climat d'insécurité sur le continent. La question du militarisme occidental qui exacerbe l'urgence climatique ne peut être négligée dans la perspective de la COP 27. Il est important de considérer que le sommet sur le climat de novembre aura lieu en Égypte, pays limitrophe de la Libye. En 2011, les forces de l'OTAN ont bombardé et contribué à renverser le gouvernement de la Libye, qui était l'un des pays les plus riches d'Afrique. Dix ans plus tard, à la suite de l'intervention de l'OTAN, la Libye souffre d'une guerre civile et d'une crise des réfugiés•ées qui rend plus difficile pour le pays de faire face à la sécheresse extrême et aux tempêtes de poussière induites par le climat. Il existe un lien crucial entre le militarisme occidental et l'injustice climatique sur le continent africain.
Pour plus d'informations, veuillez consulter l'article de Djibo Subukwe intitulé "NATO and Africa : A Relationship of Colonial Violence and Structural White Supremacy" ainsi que l'interview de Margaret Kimberley "Blacks must oppose US AFRICOM" et l'article d'Abayomi Azikiwe "Africa Remains at the Center of a 21st Century Cold War".
Mardi, 4 Octobre 2022
Heure : 19 h CEST/5 h CAT/1 h EDT
Modératrice : Tamara Lorincz, responsable du groupe de travail sur l'environnement de la WILPF.
Intervenants•es : Abayomi Azikiwe, Pan-African News Wire (en anglais), Edwick Madzimure, WILPF Zimbabwe, Mpiwa Mangwiro, WILPF Afrique du Sud
Langues : L'interprétation sera disponible en anglais, français et arabe.
Inscrivez-vous dès aujourd'hui.