2022/05/04 Mexico City + online 15h UTC / 10am mex-time


UNIVERSAL DISARMAMENT FOR A SOCIO-ECOLOGICAL TRANSITION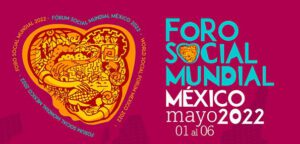 UNIVERSAL DISARMAMENT FOR A SOCIO-ECOLOGICAL TRANSITION
(panel discussion and Assembly, May 4th, 15h UTC = 10am mextime) (new time)

Online and Palacio de Minería, Ciudad Mexico (NEW LOCATION)
Register in advance for this meeting: (zoom link)
https://wsf2022.org/  |  https://join.wsforum.net/activities/10383
Global arms spending amounts to 1.9 trillion U.S. dollars a year and has once again gone through the roof since the Ukraine war; Germany, for example, has allocated a special fund of 100 billion that is also to be enshrined in the constitution. More and more countries want to meet and exceed NATO's and the EU's target of spending 2% of GDP on the military.  Military expenditures in quite all countries of the world are growing, the profit of the arms industry creates a new golden age above all for the 1%.
300 billion Dollar per year for the next 10 years would cover the annual financial requirements of the Sustainable Development Goals. The UN climate fund needs in minimum 300 billion Dollar. Likewise, the food and energy crises caused by the war and the continued heating of the atmosphere will require billions more, not to mention the health care systems battered by the Covid 19 pandemic.
This discussion will be the follow-up of a process which has taken place during the virtual World Social Forum at the end of January, 2021. The purpose of this panel consisting of representatives of different worldwide social movements consists in elaborating concrete proposals for common actions in 2022 and 2023.
Participants:
Rafael Alegría – Via Campesina from Honduras
Tord Björk – Climate-justice-movement and Stockholm+50 from Sweden (zoom)
Neringa Tumenaite – UNITED, an environmental youth organization from Hungary (tbc)
Kristine Karch, No to NATO, IPB, Germany
Ernesto Gibson Kpordotsi, Global Peace Association Ghana, IPB-African network – comes from Acra Ghana (zoom)
Julieta Daza, Venezuela/Columbien Juventud Rebelde, (zoom)
Moderation: Reiner Braun, Executive Director International Peace Bureau (IPB) und Cora Fabros, Philipines network for peace and nuclear weapons free, board member IPB
Organized by:
https://join.wsforum.net/activities/10383
Register in advance for this meeting:
https://bit.ly/3OLQ3E3 (zoom link) https://wsf2022.org/