2022/03/15 online zoom 5pm PT | 8pm ET


Peace Movement in Action: Peace Voices from Russia, Kazakhstan & Eastern Europe
Chat with peacemakers and experts on March 15th at 5 pm PT/8 pm ET: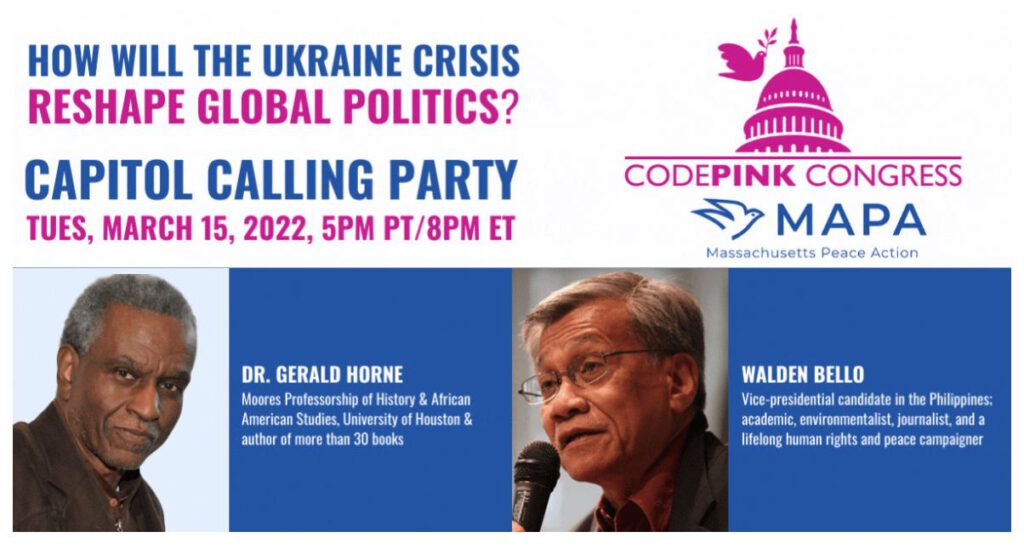 Register here: https://www.codepink.org/03152022?utm_campaign=cp_congress_03152022
oin CODEPINK Congress and Massachusetts Peace Action this Tuesday for an urgent conversation on the crisis in Ukraine and what the ramifications are of this geopolitical fight that threatens to engulf the whole world.
No matter how Russia's bloody invasion of Ukraine ends, the repercussions are enormous and will be felt for many years–perhaps decades–to come. What will be the consequences of a more united and militarized NATO? How will the reshuffling of energy markets affect global politics? How will this impact the campaign for global nuclear nonproliferation and disarmament? Will there be a stronger Russia/China alliance? How will the Global South be affected? We'll discuss these questions and many more with two of the greatest global analysts on the left: Dr. Gerald Horne and Walden Bello.
Featuring
Dr. Gerald Horne is a brilliant history professor at University of Houston and author of more than 30 books, from Haiti's Black Jacobins to imperialism in Northeast Africa to the Globalization of the African-American Freedom Struggle. He has also written extensively about the film industry and teaches courses on the US history through film. Dr. Horne received his Ph.D. in history from Columbia University and his J.D. from the University of California, Berkeley and his B.A. from Princeton University.
Walden Bello is a vice presidential candidate in the Philippines. He is a former member of the Philippine Congress, cofounder of Focus on the Global South, an academic, environmentalist, journalist, and a lifelong human rights and peace campaigner. He has an extraordinary breadth of published materials that include 20 books and he is one of the world's most outspoken and effective champions against militarism and corporate-driven globalization.