2022/02/03 Webinar 2pm – 3pm EST


ON THE BRINK:
Understanding the Ukraine Crises & Paths Toward a Just Peace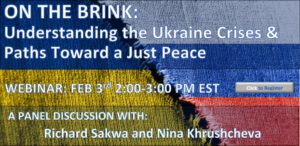 Organized by CPDCS with Massachusetts and Chicago Peace Action, International Peace Bureau.
Speakers: Richard Sakwa and Nina Khrushcheva
Register at:(zoom link)
On the Brink: Understanding the Ukraine Crises & Paths Toward a Just Peace
We're still on the brink, with growing U.S. and international forces urging diplomacy not war in the continuing Ukraine crisis. We need to dig in, learn more, and keep pressing for negotiations not war.
With Massachusetts and Chicago Peace Action, and with the International Peace Bureau, CPDCS has organized an extraordinary webinar with Richard Sakwa and Nina Khrushcheva about the current Ukraine crisis, its background, and steps that can be taken to prevent war and to move toward a just peace.
There are few, if any, scholars and analysists who can match Professors Richard Sakwa's and Nina Krushcheva's knowledge about Ukraine, its unresolved conflicts, or Russian, Western and U.S. roles in its history and in creating the current crisis.
Richard Sakwa is Professor of Russian and European politics at the University of Kent and associate fellow of the Russia and Eurasia program at Chatham House. He is renowned for his nuanced and incisive analysis of Russian politics and society. He served as the head of the University's Politics and International Relations department and has published widely about Soviet, Russian and post-communist affairs, including Frontline Ukraine: Crisis in the Borderlands.
Our work depends on your tax deductible contributions. Please consider making a donation here at:
Campaign for Peace, Disarmament and Common