2021/10/23-24 online & offline Frankfurt/M. FRG


Konferenz: Militarismus und Frieden in Lateinamerika und der Karibik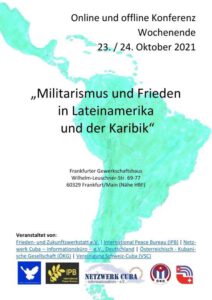 Online und offline Konferenz Wochenende 23. / 24. Oktober 2021
"Militarismus und Frieden in Lateinamerika und der Karibik"
Frankfurter Gewerkschaftshaus
Wilhelm-Leuschner-Str. 69-77
60329 Frankfurt/Main (Nähe HBF)
Veranstaltet von:
Frieden- und Zukunftswerkstatt e.V. | International Peace Bureau (IPB) | Netzwerk Cuba – informationsbüro – e.V., Deutschland | Österreichisch – Kubanische Gesellschaft (ÖKG) | Vereinigung Schweiz-Cuba (VSC)
LAK-DE-Militarismus-und-Frieden-Programm.pdf
---
Und hier ein Interview mit Raina Zimmering, einer Mitorganisatorin der Konferenz:
https://www.pressenza.com/de/2021/09/lateinamerika-die-karibik-sowie-der-gesamte-globale-sueden-leiden-unter-der-militarisierung/
---
Gedanken zum Nachdenken
Lateinamerika ist Teil des Militarisierungs- und Aufrüstungstrends in der Welt, der seit dem NATO-Gipfel in Wales 2014 weiter zugelegt hat. Das soll im ersten Teil der Konferenz im Mittelpunkt stehen:
Partnerschaftsabkommen der NATO mit Kolumbien und Brasilien als "globale Partner".
Ausbau der US-Militärbasen u.a. in Peru, Kolumbien, Honduras, Costa Rica, Chile, Paraguay und Guantanamo auf Kuba; Militärstützpunkte Großbritanniens, Frankreichs und der Niederlande.
Nutzung der militärischen Infrastruktur anderer lateinamerikanischer Länder (u.a. Ecuador, Galapagos Inseln).
Neue Militärbasen in Kolumbien, Guayana und auf den ABC-Inseln.
Zunahme von Militärmanövern von US- und NATO-Truppen in Kolumbien, Brasilien und vor den Küsten Venezuelas.
CIA finanzierte Söldnereinsätze in Venezuela.
Ausbildung von lateinamerikanischen Militärs in den USA, in anderen NATO-Ländern oder durch lateinamerikanische Stellvertreter.
Wachsende Waffenexporte westlicher Staaten nach Lateinamerika.
Ausübung von Regierungsfunktionen und Wirtschaftsmacht durch hohe Militärs.
Zunehmende Unterordnung ziviler Aufgaben unter militärischer Führung (Bekämpfung der Drogenmafia, der Oppositions- und emanzipatorischen Bewegungen und Coronapolitik).
Sanktions- und Blockadepolitik gegen Venezuela, Kuba und Nikaragua.
Zusammenarbeit des Militärs mit paramilitärischen Gruppen, dem organisierten Verbrechen und mit transnationalen Unternehmen.
Im zweiten Teil der Konferenz werden Gegenstrategien gegen die wachsende Militarisierung und Militarismus in Lateinamerika und mögliche Alternativen herausgearbeitet:
Zusammenhang zwischen progressiver politischer Wende und einer unabhängigen und friedlichen Außenpolitik (Massenproteste in Chile und Arbeit an einer neuen Verfassung, Wahl eines linken Präsidenten in Bolivien, Frauenproteste in Argentinien, Chile und Mexiko, Freilassung des ehemaligen brasilianischen Präsidenten Lula).
Friedenspolitik im internationalen Maßstab:

Wachsende Anzahl von Ratifizierungen des Vertrages von Tlatelolco für eine Kernwaffenfreien Zone.
Proklamation "Zone des Friedens" der Gemeinschaft der Lateinamerikanischen und Karibischen Staaten (CELAC) in Havanna.
Die Beteiligung lateinamerikanischer Staaten an UN-Friedensmissionen.
Samstag, 23. Oktober 2021
11:00 Eröffnung und Begrüßung
11:15 – 13:30 h "Militarismus und Widerstand in Lateinamerika und der Karibik
– eine historisch-strategische Beschreibung"
Leo Gabriel, Österreich, Journalist, Friedensaktivist, Intern. Rat Welt Sozial Forum: Überblick über die gesellschaftliche Lage in der Region: Geschichte, Strategische Lage, Entwicklungen und Perspektiven
Dr. C. Alberto Prieto Pozos, Cuba, Historiker: Historischer Überblick (tbc)
Prof. Dr. Raina Zimmering, Deutschland, Politikwissenschaftlerin:
Krieg und Frieden nach Innen – Mexiko als Beispiel einer Militarisierung von Gesellschaften der Region
Heike Hänsel, Deutschland, MdB Die LINKE.:
Rolle der USA/Nato/EU in Lateinamerika & Karibik (LA+K)
13:30 – 15 h Mittagspause
15:00 – 17:00 h Parallele Arbeitsgruppen zu einzelnen Themen
Inhaltlich: Aktuelle Kräfteverhältnisse, Strategien, Diskurse, Akteur:innen, progressive Bewegungen, Handlungsorientierung
Historie, Kolonialismus, Imperialismus, Anti-Imperialismus
Gesprächsrunde mit: Kerstin Sack, Deutschland, (tbc) und Reiner Braun, Deutschland, IPB
Militarisierung der Gesellschaften und der Friedensprozess in Kolumbien
Impuls und Moderation: Julieta Daza, Juventud Rebelde, Kolumbien/Venezuela | Saul Lozano, Unidos por La Paz Alemania | Jessica Pardo, Columbien, IPB | Raina Zimmering
Rolle der USA/Nato in Lateinamerika
Impuls: Heike Hänsel; Ingar Solty, Rosa Luxemburg Stiftung | Moderation: Kristine Karch, No to NATO & EcoMujer e.V.
Sanktionen und Blockaden als kriegerischer Interventionismus
Impuls: Julia Eder, Österreich, ÖKG; Wiebke Diehl, freie Journalistin & wiss. Mitarbeiterin im Bundestag | Moderation: Edgar Göll, Zukunftsforscher, stellv. Vorsitzender Netzwerk Cuba e.V.
17:00 – 17:30 h Pause
17:30 – 18:30 h Abendvortrag:
Monica Valente (Brasilien), Generalsekretärin des Foro Sao Paulo
19:00 – 20:00 h Informelles Vernetzungstreffen
"Frieden in Lateinamerika & der Karibik", Infostände verschiedener Gruppen
Danach: Get together mit lokalen Aktivist:innen und Initiativen
Sonntag, 24. Oktober 2021
Handlungsorientierungen und Handlungsoptionen "Frieden und Befreiungen"
09:00 – 10:30 h Eröffnungsvorträge:
Subcomandante Insurgente Galeano (ehemals Marcos): Frieden und Befreiung, die Zapatistas (tbc)
Julieta Daza: Handlungsorientierungen & -optionen für Frieden und Befreiungen
Ruth Kries, Ärztin, Chile/BRD: Die Verfassungsdebatte in Chile – ein neuer Anfang
Reiner Braun: Europäische Perspektive zu Frieden und Gerechtigkeit in LA+K
Generalkonsul Jimmy Chediak, Venezuela, Generalkonsulat Venezuela Frankfurt/M. (tbc)
10:30 – 11:45 h Vier parallele Arbeitsgruppen zur gleichen Frage:
"Wie geht Frieden in Lateinamerika? Welche Handlungsoptionen und Möglichkeiten gibt es? Was sind nächste Schritte?"
11:45 – 12:00 h Kaffee Pause
12:00 – 13:30 h Gesprächsrunde mit:
Özlem Demirel, Deutschland, MdEP Die LINKE. | Leo Gabriel | Kristine Karch | Julieta Daza
Moderation: Natalie Benelli, Schweiz, VSC
13:30 h Schlusswort und Dank: Reiner Braun
Weitere Informationen
Die Konferenz wird unterstützt von: EcoMujer e.V. | Friedens- und Zukunftswerkstatt, Frankfurt/M. | Gesellschaft für Frieden und internationale Solidarität (GeFiS) | Netzwerk InterRed Cooperación e.V. | Netzwerk "No to war – no to NATO" | Unidas por la Paz / Defendamos la Paz Internacional | Institut "Welttrends".
Medienpartnerschaft mit: amerika21.de | Granma | Zeitschrift "Welt-trends" | junge Welt | Marxistische Blätter | pressenza | Lateinamerika anders.
Veranstaltungsort: Frankfurter Gewerkschaftshaus, Wilhelm-Leuschner-Str. 69-77, 60329 Frankfurt/Main (Nähe HBF).
Online-Registrierung: zur Zoom-Konferenz über https://bit.ly/3z3B8Ne (zoom Link).
Anmeldung für Frankfurt: Wegen der voraussichtlich begrenzten Präsenzmöglichkeiten (Corona-Bedingungen) ist eine Anmeldung an notwendig.
Internet: Der Link zum Live-Stream (youtube) wird kurz vorher auf der Webseite veröffentlicht.
Teilnahmebeitrag: Je nach Selbsteinschätzung zwischen 5,00 bis 15,00 € und kann vor Ort bezahlt werden. Online Teilnehmenden bitten wir um eine Spende nach Selbsteinschätzung.
Spendenkonto: Friedens- und Zukunftswerkstatt e.V. IBAN: DE20 5005 0201 0200 0813 90
BIC: HELADEF1822 Stichwort: "LAC-Konferenz"
(Spendenbescheinigungen können ausgestellt werden.) (Stand: 20.09.2021)