2021/06/04-06 online


#NoWar2021 Virtual Conference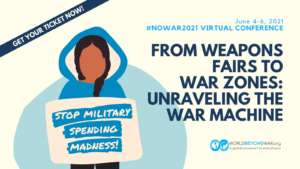 Greta is excited to officially announce that we'll be partnering with Hopin to host our #NoWar2021 virtual global conference (https://nowar2021.worldbeyondwar.org/) this June 4-6!! The virtual Hopin platform facilitates an interactive conference experience complete with one-on-one and small group networking, virtual expo booths, breakout sessions, main stage panel presentations, and more. Get your tickets to join World BEYOND War for this exciting event! (https://hopin.com/events/nowar2021-virtual-global-conference)
The COVID-19 pandemic has forced us to re-think what global conferences can look like. We've traded in long carbon-intensive flights and pricey hotel rooms for an online experience that allows us to network with activists around the world and bring international experts into one virtual space. We've broadened the conference theme from a narrow focus on CANSEC (North America's largest weapons expo hosted in Ottawa each year) to examining the broader supply chain, from weapons expos to war zones around the world. And we've added in speakers from a diversity of perspectives, to capture global viewpoints on the war machine's impact.
#NoWar2021 goes beyond a typical webinar format. Through the Hopin platform, we can create a more well-rounded conference experience that includes panel presentations on the main stage, workshops, skills trainings, and one-on-one and small group networking. You can browse the expo booths and talk live with sponsoring organizations; set up your own private chats with other attendees; pop in and out of breakout sessions and even create your own.
Many of us feel like Zoom pros now, but we wanted to go beyond Zoom for #NoWar2021 to enrich the experience of a virtual event. Unlike Zoom, Hopin doesn't require any apps or downloads. It's an in-browser experience best on Chrome or Firefox on desktop. We'll send out a how-to guide in advance of the event, and have volunteers on standby at our Help Desk booth to assist with any tech issues during the live event.
#NoWar2021 will be unlike any conference we've hosted before. Check out the conference website for the full schedule of events and speakers' bios.
P.S. We're also excited to announce the details for the #NoWar2021 sponsorship tiers! Check out the sponsorship page for perks like booking ad space in the program, reserving a virtual expo booth, and more.
Greta Zarro
Organizing Director
World BEYOND War