2021/04/12 virtual event


MIT Starr Forum: Advice for President Biden: Dealing with Putin's Russia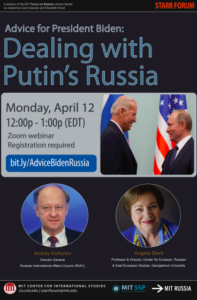 with a recommendation by Ann Wright Center for Citizen Initiatives
Dear CCI Friends,
It is not often that we get to participate in a Zoom Webinar with two Russian specialists, one in Russia, the other in the United States. The topic is very much needed these days:
"Dealing with Putin's Russia"
Andrey Kortunov has been the Director General of the Russian International Affairs Council in Moscow since 2011. He is a member of several expert supervisory committees. I've known Andrey since he was in his 20's and the youngest member at the U.S.-Canada Institute in Moscow in the mid-80's. He was already breaking with his older Soviet colleagues at that time.
Angela Stent is a foreign policy expert specializing in U.S. and European relations with Russia and Russian foreign policy. She is professor of Government and Foreign Service at Georgetown University and Director of its Center for Eurasian, Russian and East European Studies.
The flyer and link to register for the Zoom webinar are below.
Sharon Tennison
Center for Citizen Initiatives
https://calendar.mit.edu/event/AdviceBidenRussia#.YG_GfndKh0t