2021/01/24 | 11-13 h UTC+1


Militarism:
Violence against Women as a Weapon of war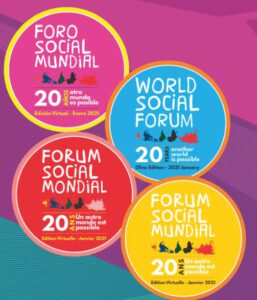 Militarism: Violence against Women as a Weapon of war
January 24th, 2021, at 11:00 – 13:00 CET (UTC+1)
Organized by Women against NATO
join: https://us02web.zoom.us/j/82735709540?pwd=QmYwSHdMR3dIeXBLemFCTjFadm4wUT09
Round Table with:
Amela Skiljan

(Bosnia & Herzegovina), IPB and International Association of Lawyers Against Nuclear Arms (IALANA) Board

Cyrille Rolande Bechon

(Cameroon),

Nouveaux Droits de l'Homme Cameroun (NDH)

Judith Mirkinson

(USA),

President "Comfort Women" Justice Coalition, San Francisco and former President of the National Lawyers Guild SF/Bay Area Chapter

Ria Verjauw

(Belgium), Leuvense Vredesbeweging and Belgische en Internationale Coalitie 'Stop Uranium Weapons'

Rohash Shexo

(Rojava / London), Kongra Star Women's Organisation of Rojava and Northern Syria

Suzuyo Takazato(Japan), President of Okinawa Women Against Military Violence and International Women's Network Against Militarism
Moderation: Corazon Valdez Fabros (Philippines), Vice-President IPB and Kristine Karch (Germany), International network 'No to war – no to NATO'
Description:
In this webinar we will discuss the question of gender based violence in the military itself and also in conflict region and during war. Examples could be the Boko Haram in Africa, the IS in West Asia, COMFORT WOMEN in Asia, the rapes and sex industry in Bosnia, but also the feminicide in Latin America. We should not only analyse the problems, but also discuss the possibilities for reconciliation on the one hand and prevention on the other.