2021/01/25 worldwide


Global Day of Action over Yemen
Stop the War has been working with a number of organisations on a call for global protests against the war on Yemen on January 25. www.stopwar.org.uk/ Over 200 organizations from over 15 countries have signed the statement, which is in 5 languages.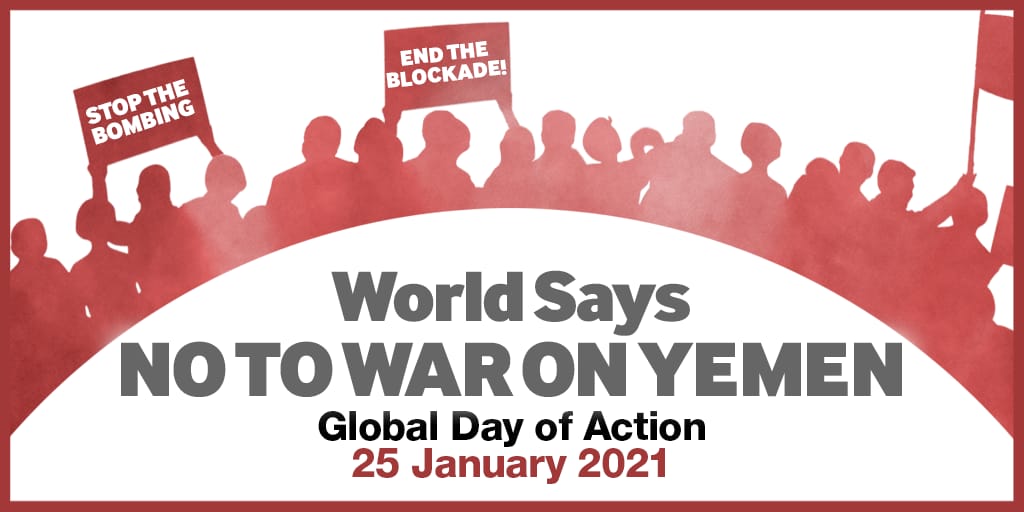 Register your event here:
https://actionnetwork.org/event_campaigns/world-says-no-to-war-on-yemen-25-jan-2021
We are asking you to take 4 next steps:
---
We are asking you and your organization to take three next steps:
First, please start organizing with people in your town or city on January 25. We encourage you to connect with other organizations that have led Yemen solidarity work in the past, to support the leadership of Yemeni Americans, and to prioritize the health of activists. Some groups are organizing protests within cars. Others are organizing a film screening for Sat., Jan. 16 (2pm Eastern). And we are working on a global webinar on Mon., Jan. 25 (2pm Eastern), along with U.S. advocacy action opportunities. Please register your local event details here, and it will be uploaded onto an international map. 
Second, please circulate our joint statement widely. It is currently in 5 languages with over 180 organizational signatories from over 15 countries. We want to keep expanding the action and spreading the word. 
Third, use this digital toolkit from Stop the War Coalition UK for posting on Twitter, WhatsApp and beyond.
---
Stop the War has been working with a number of organisations on a call for global protests against the war on Yemen on January 25.
We are asking anti-war and other organisations to back the call and organise protests on that day. You can read and add your organisation here:
I will put the text below as well. Obviously please feel free to circulate the link.
Solidarity with you all.
Chris
Joint Statement: World Says No to War on Yemen
CALL TO PROTEST INTERNATIONALLY
MONDAY, 25 JANUARY 2021
Please add your organisation below.
Since 2015, the Saudi-led bombing and blockade of Yemen have killed tens of thousands of people and devastated the country. The U.N. calls this the largest humanitarian crisis on Earth. Half the country's people are on the brink of famine, the country has the world's worst cholera outbreak in modern history, and now Yemen has one of the very worst COVID death rates in the world: It kills 1 in 4 people who test positive. The pandemic, along with withdrawal of aid, is pushing more people into acute hunger.
And yet Saudi Arabia is escalating its war and tightening its blockade.
The war is only possible because Western countries — and the United States and Britain in particular — continue to arm Saudi Arabia and provide military, political and logistical support for the war. The Western powers are active participants and have the power to stop the world's most acute human crisis.
The disaster in Yemen is man-made. It is caused by the war and blockade. It can be ended.
People and organisations from the U.S., Britain, Canada, France, Italy, and across the world, are coming together to call for an end to the war in Yemen and solidarity with the people of Yemen. We demand that right now our governments:
Stop foreign aggression on Yemen.
Stop weapons and war support for Saudi Arabia and the United Arab Emirates.
Lift the blockade on Yemen and open all land and sea ports.
Restore and expand humanitarian aid for the people of Yemen.
We call on people around the world to protest the war on January 25, 2021, just days after the U.S. presidential inauguration and the day before Saudi Arabia's 'Davos in the Desert' Future Investment Initiative.
We ask individuals and organisations everywhere to call for protests — with masks and other safety precautions — in their towns and cities on that day and make clear that the WORLD SAYS NO TO WAR ON YEMEN.
Please add your organisation's name to this statement. For more information, please contact .
1. Stop the War Coalition (UK)
2. Action Corps (US)
3. Yemeni Alliance Committee (US)
4. Yemen Relief and Reconstruction Foundation (US)
5. CODEPINK (US)
6. Just Foreign Policy (US)
7. Peace Action (US)
8. Voices for Creative Nonviolence (UK and US)
9. Freedom Forward (US)
10. Massachusetts Peace Action (US)
11. Peace Action New York State (US)
12. London Students for Yemen (UK)
13. Arab Organisation for Human Rights in the UK (UK)
14. Nonviolence International (Global)
15. Mobilization Against War and Occupation (Canada)
16. Rete No War Roma (Italy)