Together we reject the new tests of M 51 nuclear missile in Brittany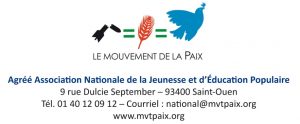 DECLARATION
Together we reject the new tests of M 51 nuclear missile in Brittany
(machine translation)
In the midst of a health crisis, the government insists on developing its new nuclear weapons programs to the detriment of health, social and environmental priorities.
This obstinacy is expressed through a new campaign of tests of the Nuclear Missile M51 (1) organized, from 9 June and over several weeks, from the point of Penmarc'h in Brittany.
These weapons of mass destruction, dangerous for the survival of humanity, are illegal under international law, immoral, useless for our security and costly.
To express their opposition to this campaign, the Brittany committees of Le Mouvement de la Paix decided to organize citizen initiatives in the form of pickets of protest, or protest circles, or picnics for peace, and this in compliance with the rules of health prudence, in different cities of Brittany (Nantes, Rennes, Lannion, Saint Malo, Penmarc'h, Morlaix, etc.)
Le Mouvement de la Paix at the national level supports these initiatives and calls everywhere in France its committees, citizens and all organizations that consider it necessary to reverse the priorities in favor of health and environmental emergencies, to amplify this movement through multiform local actions in the maximum number of cities.
In the respect of the measures of health precautions, protest gatherings with about ten people can be organized in the coming days and until the end of June in front of the town halls, privileged places of expression of the citizenship, or in front of the prefectures,  symbolic places of state power. The priorities in favour of health, social and ecological security of the population, in favour of an ambitious multiannual programme for public hospitals and homes for senior and dependent persons, and a plan for ecological security must be expressed forcefully.
At the same time must be expressed the requirement, shared by 78% of the French (2), of visible political acts in favor of nuclear disarmament by the French government, like the freezing of new nuclear weapons modernization programs and the signing of the Treaty on the Prohibition of Nuclear Weapons adopted at the United Nations in July 2017. Every citizen can also support this initiative by signing the petition so that France and all the states of the world ratify the Treaty.
Le Mouvement de la Paix – June 9, 2020
(1) Each M51 missile costs 120 million euros, which represents the annual gross salary of 7,500 nurses. Each M51 carries six atomic bombs, each of which can destroy a city like Paris in seconds. Each of the 4 French nuclear submarines carries 16 nuclear missiles. The replacement of these 4 nuclear submarines, which is at the heart of the military programming law passed by the government majority, constitutes a violation of Article 6 of the Nuclear Non-proliferation Treaty (NPT).
(2) Ifop survey/La Croix/ Le Mouvement de la Paix/ Planète Paix .