Malgré la menace de la pandémie, l'armée US poursuit ses pratiques de guerre en Europe et dans le Pacifique, et prévoit d'en faire encore plus en 2021
https://www.opednews.com/articles/2/Despite-the-danger-of-COVI-by-Ann-Wright-Covid19_Covid19_Military_Military-Deployment-200519-76.html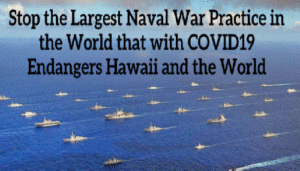 Par Ann Wright
Au cours de la pandémie de COVID 19, non seulement l'armée US organisera les plus grandes manœuvres militaires maritimes au monde, avec 'Rim of the Pacific' (RIMPAC) qui aura lieu au large d'Hawaï du 17 au 31 août 2020, réunissant 26 nations, 25 000 militaires, jusqu'à 50 navires et sous-marins et des centaines d'avions au milieu d'une pandémie mondiale de COVID 19, mais elle organisera aussi un 'wargame' de 6000 participants en juin 2020 en Pologne. […]
Comme si il n'y avait pas assez d'opérations militaires au milieu d'une épidémie qui a frappé le personnel de 40 navires de l'US Navy, et en raison de laquelle le personnel militaire et leurs familles ont été invités à ne pas voyager, des plans sont en cours pour un autre exercice dans moins d'un an, dans la région indo-pacifique. Connu sous le nom de Defender 2021, l'armée US a réclamé 364 millions de dollars pour mener les exercices de guerre dans les pays d'Asie et du Pacifique.
Le pivot vers le Pacifique, commencé sous l'administration Obama, et maintenant sous l'administration Trump, se reflète dans une stratégie de défense nationale des États-Unis qui voit le monde comme « une grande compétition entre puissances et a formulé sa stratégie pour affronter La Chine en tant que concurrent stratégique à long terme. »
Ce mois-ci (mai 2020), l'US Navy a tenu à faire une démonstration de force, dans le cadre de la politique du Pentagone pour 'contrer l'expansionnisme chinois en mer de Chine méridionale', pour démonter que les capacités de l'US Navy n'ont pas été amoindries par l'épidémie : elle a envoyé 7 sous-marins, dont 4 sous-marins d'attaque basés à Guam, plusieurs navires basés à Hawaï et l'USS Alexandria basé à San Diego ; la Pacific Fleet Submarine Force a déclaré publiquement que tous ses sous-marins déployés à l'avant conduisaient simultanément des «opérations d'intervention d'urgence».
La structure de la force militaire US dans le Pacifique sera modifiée pour répondre à la menace chinoise, telle que la perçoit la National Defense Strategy, à commencer par la création de nouveaux bataillons d'infanterie plus petits pour soutenir une guerre expéditionnaire navale, dans un concept de combat connu sous le nom 'Expeditionary Advanced Base Operations'. Les forces maritimes US seront décentralisées et réparties dans le Pacifique sur des îles ou des bases de barges flottantes. Comme la Marine élimine une grande partie de ses équipements et unités traditionnels, elle d'investir dans des systèmes sans pilotes de reconnaissance et de frappes de précision à longue portée, doublant le nombre d'escadrons sans pilote.
[…]
Le War game, Defender Europe 2020, est actuellement en cours  en Europe, et il coûtera environ 340 millions de dollars, ce qui correspond à peu près à ce que l'armée US demande au cours de l'exercice 21 pour la version pacifique du Defender. Defender 2020 se déroulera en Pologne du 5 au 19 juin et aura lieu dans le nord-ouest de la Pologne, avec une opération aéroportée polonaise et une traversée fluviale d'une division américano-polonaise. Plus de 6000 soldats étatsuniens et polonais participeront à cet exercice dénommé "Allied Spirit", qui était initialement prévu pour mai. Defender-Europe a été en bonne partie annulé en raison de la pandémie.
L'armée US en Europe prévoit des manœuvres supplémentaires au cours des prochains mois en se concentrant sur les objectifs de formation initialement définis pour Defender 2020. Cela comprend le travail avec des équipements pré-positionnés en Europe et la conduite d'opérations aéroportées dans la région des Balkans et de la mer Noire.
Au cours de l'année 20, l'armée conduira une version plus petite de Defender Pacific, pendant que Defender Europe obtiendra plus d'investissements et d'attention. Mais en 2021, l'attention et les dollars se déplaceront vers le Pacifique. Defender Europe sera réduit : L'armée US ne demande plus 'que' 150 millions de dollars pour mener l'exercice en Europe, dit-elle.
Dans la région indo-pacifique, l'armée US compte 85 000 soldats stationnés en permanence, et elle étend une série de manoeuvres appelés 'Pacific Pathways' en prolongeant la durée de présence d'unités dans les pays tels que les Philippines, la Thaïlande , la Malaisie, l'Indonésie et Brunei. Un quartier général de division et plusieurs brigades auraient un scénario en mer de Chine méridionale, dans lequel ils se trouveraient aux alentour de la mer de Chine méridionale et de la mer de Chine orientale pendant une période de 30 à 45 jours.
En 2019, dans le cadre des exercices Pacific Pathways, des unités de l'armée US se sont trouvés en Thaïlande durant trois mois, et durant quatre mois aux Philippines. L'armée US discute avec le gouvernement indien de l'extension des exercices militaires d'environ quelques centaines de membres du personnel à 2 500 pour une durée pouvant aller jusqu'à six mois, ce qui "nous permet également de rester plus longtemps dans la région sans y être en permanence", selon au général commandant de l'armée US du Pacifique. Après un exercice plus vaste, de plus petites unités de l'armée US seront déployées dans des pays tels que les Palaos et les Fidji pour participer à des manoeuvres ou à d'autres entraînement.
En mai 2020, le gouvernement australien a annoncé qu'une rotation retardée de six mois de 2500 Marines US vers une base militaire dans la ville de Darwin (nord de l'Australie), se poursuivrait sur la base du strict respect des mesures anti-pandémiques, y compris une quarantaine de 14 jours. Les Marines devaient arriver en avril, mais leur arrivée a été reportée en mars en raison de COVID-19.
Le Territoire du Nord , qui n'avait enregistré que 30 cas de COVID-19, a fermé ses frontières aux visiteurs internationaux et interétatiques en mars, et toute arrivée doit désormais être mise en quarantaine obligatoire pendant 14 jours. Les déploiements de Marines US en Australie ont commencé en 2012 avec 250 personnes, et ils sont passés à 2 500.
[…]
Texte complet et liens sur https://www.opednews.com/articles/2/Despite-the-danger-of-COVI-by-Ann-Wright-Covid19_Covid19_Military_Military-Deployment-200519-76.html
About the Author:  Ann Wright served 29 years in the U.S. Army/Army Reserves and retired as a Colonel.  She was a U.S. diplomat for 16 years and served in U.S. Embassies in Nicaragua, Grenada, Somalia, Uzbekistan, Kyrgyzstan, Sierra Leone, Micronesia, Afghanistan and Mongolia.  She resigned from the U.S. government in March 2003 in opposition to the U.S. war on Iraq. She is a member of Veterans for Peace, Hawaii Peace and Justice, CODEPINK: Women for Peace and the Gaza Freedom Flotilla coalition.
—
Ann Wright | Dissent: Voices of Conscience | www.voicesofconscience.com