2020/04/25 Firence, Italy


Let's Break Free From War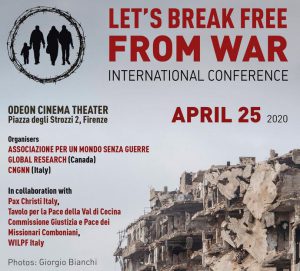 Associazione Per un Mondo senza Guerre – CNGNN (Italy) – Global Research (Canada)
In collaboration with
Pax Christi – Tavola per la Pace di Val Cecina
Commissione Giustizia e Pace dei Missionari Comboniani
WILF Italy
organize
the International Conference
on the 75th Anniversary of Italian Liberation
and end of the Second World War:
Let's break free of war
Saturday, April 25th 2020
Odeon Theater
Piazza degli Strozzi, 2 – Firenze
Themes of the Conference
Nuclear Weapons & Environment
Wars, Economy & Society
Information & Participation
Campaign to Free Julian Assange
Speakers
Prof. Franco Cardini, historien, essayist
Giulietto Chiesa, journalist, writer, Pandora TV director
Prof. Michael Chossudovsky (Canada) economist, Global Research Director
Manlio Dinucci. Journalist, essayist
Vladimir Kozin (Russia) main expert of the Center for Military and Political Studies of the Russian Ministry of Foreign Affairs
and 
Giorgio Bianchi, war photo reporter, documentary & film maker
Registration
Please, register your name, address, email or mobile phone number
to
Giuseppe Padovano
Mob. +39 393 998 3462
Subscription
 The organizers of the Conference never ask for any financial contribution from public or private bodies, nor from political parties wanting to maintain their autonomy. They ask you to contribute to the considerable expense with 10 euros or more. To make the payment easily, go to our site and use PayPal.