2020/02/14-16 Athenes, Greece


ANTI-IMPERIALIST FRONT SYMPOSIUM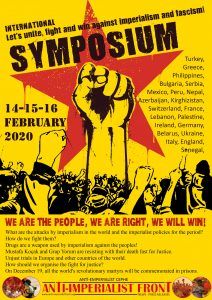 Hallo Comorade, we are orgonizing a symposium in Athenes. we are sending you our matterial by attachment . sorry that we let you know so late about the symposium. Nevertheless we would like to invite you to our symposium. Can you participate directly and if you cannot come we can video call eachother so that the other participants may also hear your voice so that it can serve our common struggle against imperialism. it starts at Feb 14. till 16. we hope to see you there.
Our program
Program of the International Symposium
PROGRAM OF THE ANTI-IMPERIALIST FRONT SYMPOSIUM IN GREECE
14th February (Friday)
12.00-13.30: Welcoming the visitors, small discussion, lunch
14.00-17.00: Preparation of the place for the symposium
17.00-17.45: Break, drinking tea, coffee and snacks
18.00:
Open speech from AIF
•  Introduction with the Front
•  Attack Methods of Imperialism
18.30-20:00: General Situation of Peoples and Organisations in the Face of Imperialist Aggression
• Imperialists' use of force and invasion, aggression, war, occupation, embargo, regime changes and resistance of the people
Latin America
Middle East
Asia
Europe
Africa
Definition of Imperialism
20:00-21:30:
• Ideological attack (media – black propaganda – culture)
• Modern strategy and manipulation methods of imperialism
February 15 (Saturday)
10.45 – 11.00 – Short review of the previous day
Session 1: (11.00 – 13.00)
Policies of Arrest and Imprisonment
• Either surrender or be a focus of resistance
• Narratives from prison resistance (living or laying claim to that tradition)
• Isolation
• Improving the network of solidarity with political prisoners
13.00-14.00 LUNCH BREAK
Session 2: (14.00 – 16.00)
IMPERIALISM AND THE PEOPLES
Corruption created by imperialism – hopelessness and mafia
• Imperialism profits from narcotics
• Cultural corruption and despair
• Drug use (age – rate – regional spread)
• Mafia (encouraging mafia to gang-up – revolutionary role models being replaced by mafia leaders)
• Nationalist-fascist organisations relationship with narcotics trade
• Struggles of revolutionaries and people against drug mafia
Session 3: (16.30-18.30)
Hunger Strikes As A Means Of Resistance of political prisoners
• The historical development of death fast and hunger strikes
• Examples and experiences from different countries
• (Ireland – Palestine – Turkey etc..)
Session 4: (19.00-21.00)
Anti-imperialist movements in each country
• How we can defend the interests of the people and create the necessary mechanisms for it.
February 16 (Sunday)
10.00 Breakfast
11.00
Final meeting, discussion and decisions of AIF symposium
18.00
CONCERT
With revolutionary greetings.
— 
Anti-Imperialist Front / People's Front
E-Mail:antiemperyalistresist@yandex.com