2019/06/23-30 Ramstein Germany
Action week in Ramstein and Kaiserslautern against the Air Base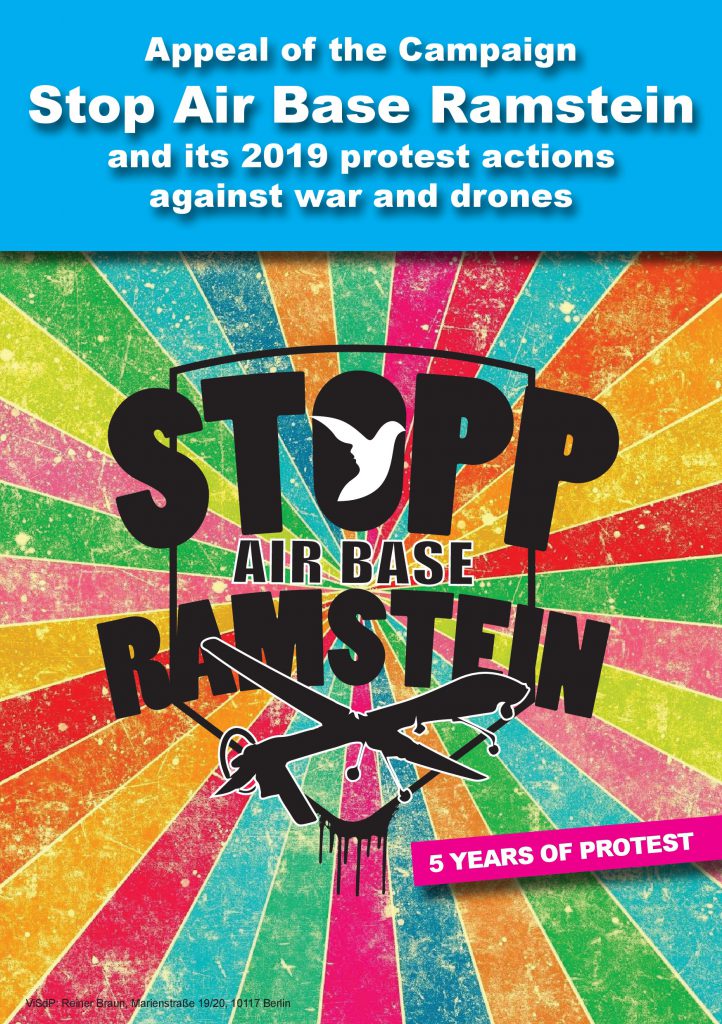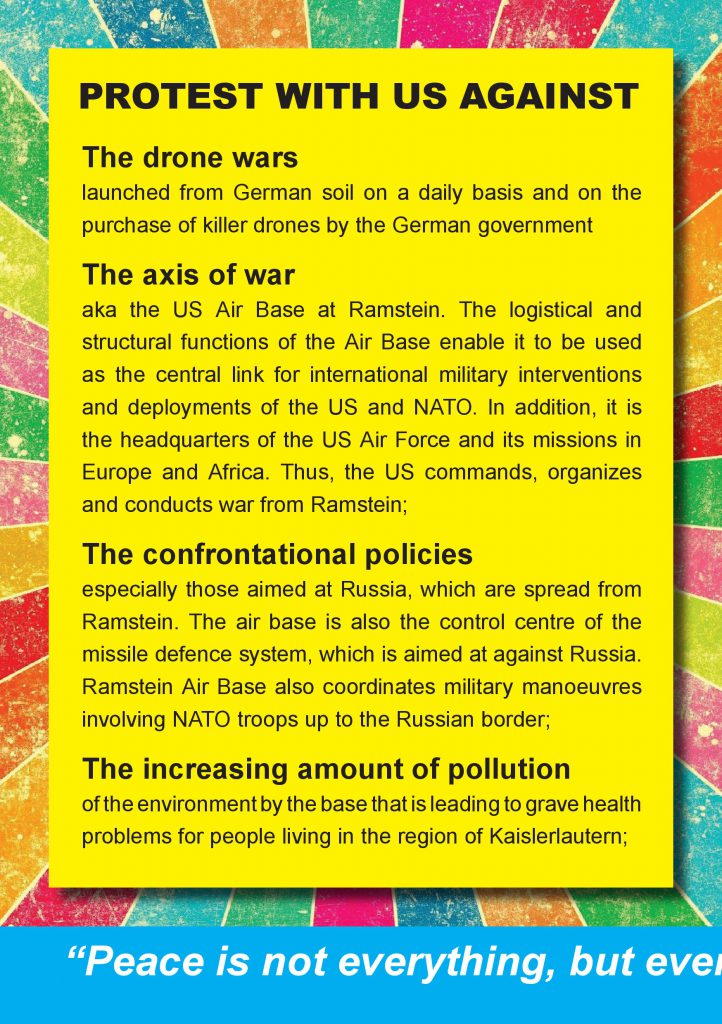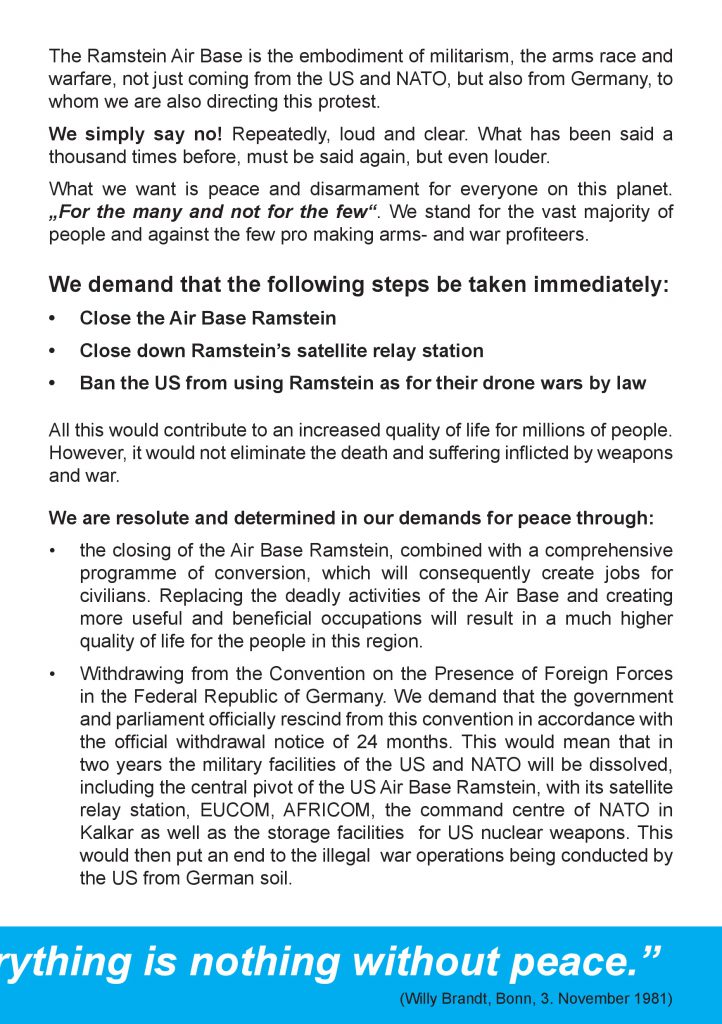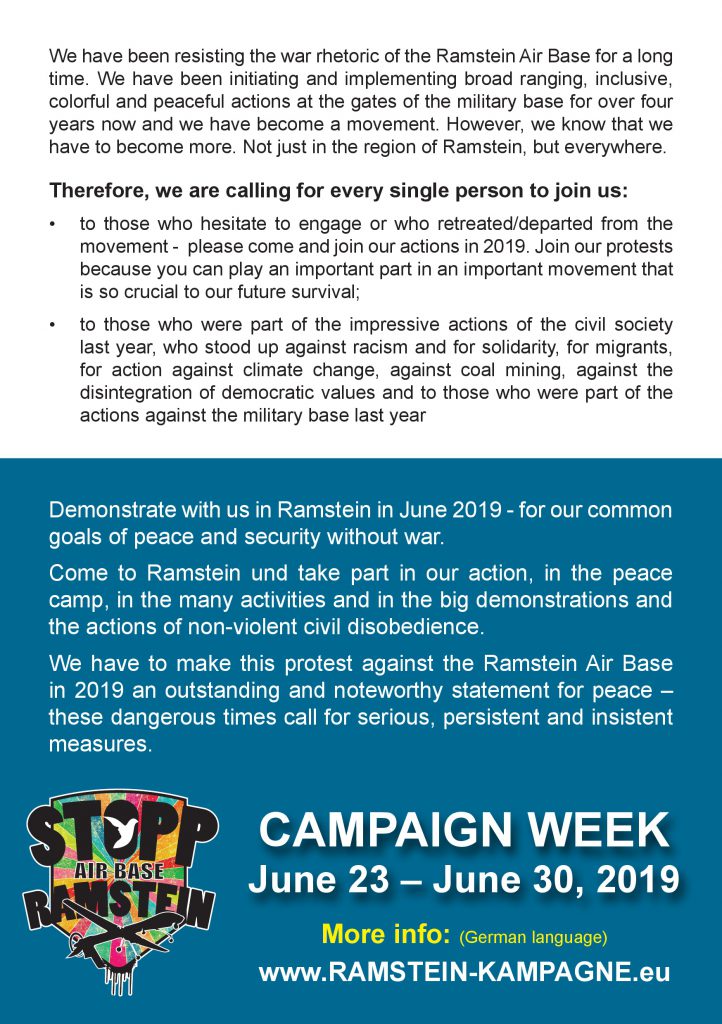 Download the flyer: A5_Flyer_2019_STOPP-RAMSTEIN_EN_web.pdf
Download the print version of the flyer: A5_Flyer_2019_STOPP-RAMSTEIN_EN_print.pdf
About 90 participants decided on 28.10.2018 in Frankfurt a.M./Germany further protest actions against the Air Base Ramstein, which will take place mainly in the week from 23.6. to 30.6.2019 in Kaiserslautern and Ramstein. Thus the actions are already in their fifth year and have developed into a supporting pillar within the peace movement, also through international networking.
In contrast to the previous demands, which focused on the US-drone war via Ramstein, which was contrary to international law and the Basic Law, two further points are developed in the updated call for 2019.
As a priority demand, the termination of the troop deployment contract was emphasized in the appeal. Literally it says:
"We demand from the Federal Government and the Bundestag: Terminate the treaty on the stay of foreign armed forces in the Federal Republic of Germany in accordance with the contractually agreed period of 24 months, so that all military facilities of the USA and NATO on the territory of the Federal Republic are dissolved within two years – among them the Ramstein war turntable with its drone relay station, EUCOM, AFRICOM, the NATO command centre in Kalkar as well as the US nuclear weapons storage sites.
This is particularly topical in that the termination of the INF agreement planned by the US government would trigger a further nuclear arms escalation, with the Ramstein Air Base as an additional hub and target in a nuclear escalation. The existing NATO command structures in Ramstein are already threatened by the nuclear counter-attacks provoked by the missile defence system in Eastern Europe, which is currently under construction.
A further focus in 2019 will be on supporting regional resistance to environmental and health hazards at Ramstein Air Base. These mainly concern the noise pollution caused by air traffic at the Air Base and the extensive combat jet training zones. In addition, education about the health hazards caused by air traffic, most of which is military, is also supported.
During the protest week, the campaign Stopp Air Base Ramstein will once again draw attention to its concerns with an international camp and peace congress, a colourful and varied demonstration with a concluding festival and actions of civil disobedience.
Translated with www.DeepL.com/Translator
More information see (mostly in German):