2019/05/05 New York
Abolition 2000 Annual General Meeting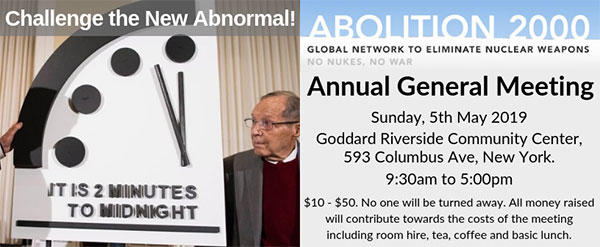 Dear friends and colleagues,
It's that time of the NPT cycle when many of the members of our network converge on New York in order to participate in the NPT PrepCom.
On January 24, the Bulletin of the Atomic Scientists kept its iconic Doomsday Clock at two minutes to midnight—the closest it has ever been to apocalypse, stating: "The current international security situation—what we call the 'new abnormal'—has extended over two years now. It's a state as worrisome as the most dangerous times of the Cold War…. This new abnormal is simply too volatile and dangerous to accept as a continuing state of world affairs."
At the Abolition 2000 Global Network to Eliminate Nuclear Weapons, we're challenging this 'new abnormal' and in this context we invite you all to our Annual General Meeting, where we will once again update ourselves on members' progress in implementing our 11 point founding statement, and discuss new and creative strategies to take this even further forward.
Location: Goddard Riverside Community Center, 593 Columbus Ave, New York.
Date: Sunday, 5th May, 2019
Time: 9:30am to 5:00pm
Suggested donation: $10 – $50.
No one will be turned away and all money raised will contribute towards the costs of the meeting including room hire, tea, coffee and basic lunch.
Click here to register on line
See you soon!
Global Council Dinner
For members of the Global Council in New York on Sunday 5th of May, we will finish our AGM with a dinner at a venue to be decided. Non-council members are also welcome. Please confirm your participation in the dinner by writing to so that we can reserve a big enough table.
Fundraising campaign
This is a reminder that we are still in our fundraising campaign for 2019 and it's not too late to participate. Please help us with our campaign to raise €10,000 in order to fund our secretariat. If 200 individuals or organisations donate €50 our target is made! Please consider making a donation. Visit our donate page at this link.