2019/04/04 Washington DC 10:30 h
MLK (Martin Luther King) Day – April 4th in Washington – new times!
Dear sisters and brothers,
We're two weeks away from April 4th, the anniversary of the awful murder of our brother Martin. We carry this man in our souls. We know his essence and we remember Beyond Vietnam at Riverside Church:
I knew that I could never again raise my voice against the violence of the oppressed in the ghettos without having first spoken clearly to the greatest purveyor of violence in the world today: my own government. For the sake of those boys, for the sake of this government, for the sake of the hundreds of thousands trembling under our violence, I cannot be silent.
We cannot be silent either.
And who would have thought that NATO, the most powerful killing machine in the history of the world, would share April 4th with Dr. King?  We resist NATO and their 70th anniversary in Martin's name!
We'll begin gathering at the MLK Memorial  at 9:45 am. The memorial is located at 1865 Independence Ave., SW. Our program will begin at 10:00 am.  It will be a powerful, brief, soulful tribute. Each speaker is asked to keep their presentations under ten minutes. We plan to begin marching to Freedom Plaza by noon.
Here's the program at MLK:
Rev. Graylan Hagler
Luci Murphy
Jaribu Hill
Omali Yeshitela
Karlene Griffiths Sekou
Kevin Zeese
We'll march on Independence Ave, then up 17th Street to a right on Constitution Ave., up 15th Street to a right on Pennsylvania Ave to Freedom Plaza.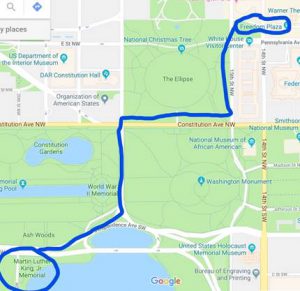 Program at Freedom Plaza
Ben Grosscup
Art Laffin
Ludo De Brabander
Kristine Karch
Medea Benjamin
Ann Wright
Phil Wilyato
Margaret Flowers
See more on the program and speakers:  https://worldbeyondwar.org/notonato/