2019/04/04 Minneapolis MN
Break the Silence YES to Peace! NO to NATO!
Break the Silence YES to Peace! NO to NATO!
Join us to commemorate the life and legacy of Martin Luther King, Jr.
MN Capitol Steps (75 MLK Blvd. St. Paul MN)
Thursday, April 4, 2019
Join us on the capitol steps at 12:15 for Veterans for Peace Chapter 27 Bell Ringing and commemorative program, including a speaker from Communities United Against Police Brutality.
At 1:30 we will meet in the capitol rotunda to hear excerpts from the "Beyond Vietnam" speech and our featured speakers, August Nimtz, Professor of Political Science and African American Studies at the University of Minnesota and Major Todd A. Pierce, a Judge Advocate at (JAG) officer at Guantanamo where he defended prisoners. He is the recent recipient of an M.A. in Politics from the New School with a focus on the political thought of Hannah Arendt and on U.S. imperial history.
Sponsored by the Minnesota Peace Action Coalition. Co-sponsored by Women Against Military Madness and Veterans for Peace Chapter 27. Endorsed by Communities United Against Police Brutality. FFI WAMM: 612-827-5364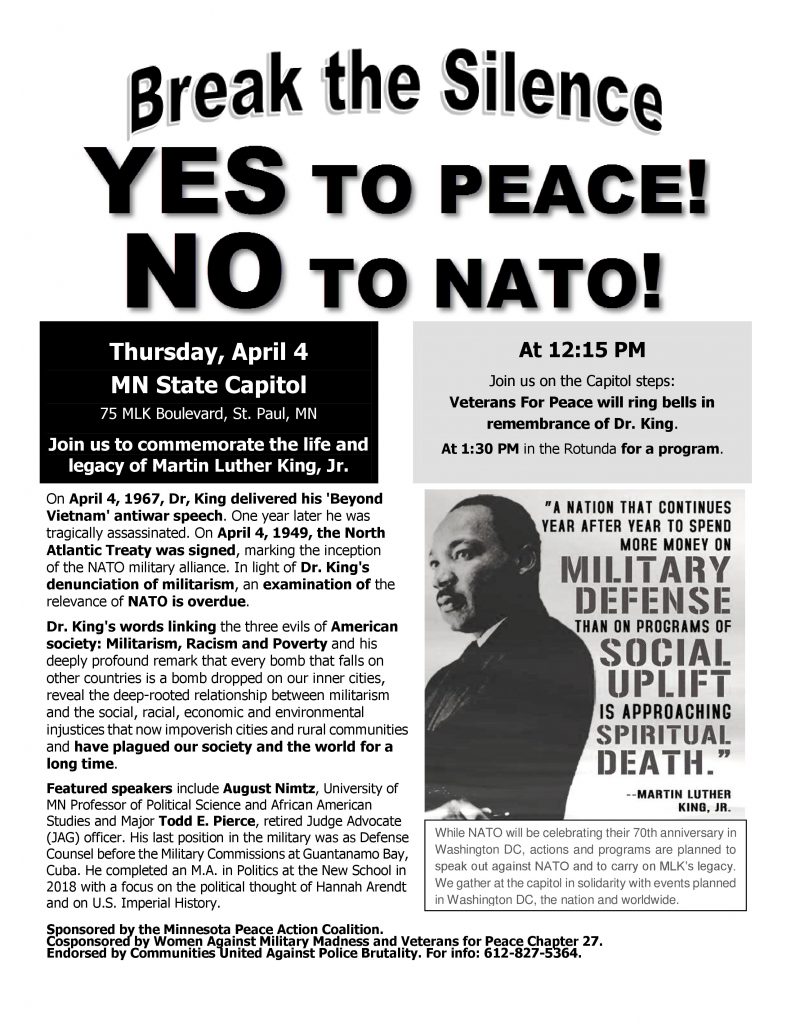 Read the leaflet: April4_YesPeace_NoNATO_2019_ Updated 3_15.pdf
Download the leaflet: April4_YesPeace_NoNATO_2019_ Updated 3_15.pdf