2019/03/16 internationl
International Day Against Racism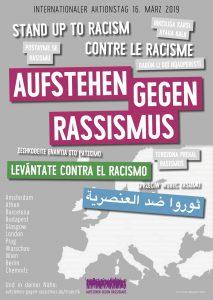 On the occasion of the International Day Against Racism, alliances and initiatives worldwide are organizing protests against racism and fascism on Saturday, March 16, 2019. On this day, meetings and demonstrations are planned in many European cities, such as Amsterdam, Athens, Barcelona, Glasgow, London, Prague, Warsaw, Vienna and others. Activists* from outside Europe have also confirmed their participation, for example in the USA and Latin America.
#marchagainstracism: Termine in Deutschland und international
(soweit bislang bekannt)
Berlin: Demo am 16.3. gemeinsam mit Bündnispartner*innen ab 14 Uhr in Schöneberg
Bruchsal: Infostand am 16.3. des Bündnisses für Menschlichkeit 9-11 Uhr in der Fußgängerzone
Chemnitz: Demo am 16.3. ab 13 Uhr Karl-Marx-Monument
Dallgow-Döberitz: Demo am 16.3. gemeinsam mit einem Bündnis aus Falkensee
Essen: Aktion am 16.3. gegebenenfalls gemeinsam mit "Essen stellt sich quer"
Frankfurt/ Main: angedacht sind ein größerer Infostand am 16.3. mit Kundgebung in der Fußgängerzone sowie eine Abendveranstaltung
Hamburg: Vortrag am 16.3. mit Barabend zum Kennenlernen
Hofheim: voraussichtlich Aktion am 16.3. in Zusammenhang mit der laufenden Bürgermeisterwahl am 24.3. und der Aktion sichere
Häfen, Vorbereitungstreffen von MTK (Main-Taunus Kreis) gegen Rechts am 12.2.
Kiel: Vorbereitungstreffen zur Vorbereitung einer Aktion am 16.3. auf Einladung des Runden Tischs gegen Rassismus und Faschismus Kiel am 5.2.
Leipzig: Aktion am 16.3. nach Möglichkeit gemeinsam mit 'Leipzig nimmt Platz'
München: sehr wahrscheinlich Infostand beim Konzert im Feierwerk von Esther Bejarano am 16.3.
Rhein-Neckar: Veranstaltung am 18. März gemeinsam mit der LINKEN Ludwigshafen/Rheinpfalz-Kreis um 19.30 Uhr zu Antiziganismus im ver.di-/DGB-Haus Kaiser-Wilhelm-Straße 7, Ludwigshafen am Rhein
Schöneiche (bei Berlin): voraussichtlich Aktion des Bündnisses für Demokratie und Toleranz in Schöneiche
Südpfalz: mehrere Veranstaltungen bei den Internationalen Wochen gegen Rassismus, u.a. am 16.3. "Ein Teller voller Vielfalt – Kochsession" im Haus der Jugend, Waffenstraße 5, 76829 Landau in der Pfalz
Großbritannien: Großdemos in London, Glasgow und Cardiff. Diese werden getragen von Stand up to Racism, Love Music Hate Racism, dem Trades Union Congress, Labour-Abgeordneten, konfessionellen Gruppen.
Dänemark: voraussichtlich Demos in neun Städten
USA: Kundgebung in New York; voraussichtlich Demo in Washington DC sowie in Boston
Niederlande: Demonstration in Amsterdam (am 23. März)
Polen: Demo in Warschau, voraussichtlich auch in 8 weiteren Städten
Irland: Demonstration in der Woche vor dem 16. März
Katalonien/ Spanien: Demo am 23. März und dezentrale Aktionen am 16. März in Barcelona, Demo am 21. März und lokale Aktionen am 23. März in Vitoria (Baskenland); verschiedene Aktionen in Sevilla am 23. März in Planung
Australien: Großkundgebung von Stand Together Against Racism in Melbourne
Österreich: Demo in Wien ab 14 Uhr auf dem Platz der Menschenrechte, MQ/ Mariahilferstrasse
Proteste sind außerdem in Vorbereitung in Griechenland, Ungarn, Türkei, Frankreich und Kanada