2017/10/11-12 Civil society 'virtual' conference
Reaching High for a nuclear-weapon-free world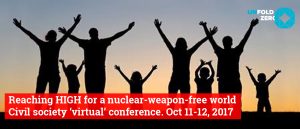 Governments are meeting at the United Nations in New York right now, and until the end of October, to discuss and adopt nuclear disarmament resolutions.
One of these UN resolutions will set the dates and mandate for a unique event in 2018 – a UN High-Level Conference on Nuclear Disarmament.
Similar UN High Level Conferences on other topics have been very successful, agreeing on the 17 Sustainable Development Goals (SDGs), adopting the Paris agreement on Climate Change and adopting the 14-point Action Plan to Protect our Oceans
Will governments use the opportunity of the 2018 High-Level Conference on Nuclear Disarmament to prevent nuclear war in North-East Asia and between Russia and the West, reduce nuclear stockpiles and advance the new treaty on the prohibition of nuclear weapons?
Or will the nuclear armed and allied governments continue the status quo and spiral towards a nuclear catastrophe?
Reaching HIGH virtual conference, Oct 11-12, 2017
Find out more about the 2018 High-Level Conference. Input your ideas into the deliberations at the UN in New York.
Join the global virtual conference, a series of webinars on Oct 11-12 organized by the Basel Peace Office, UNFOLD ZERO, PNND, Global Security Institute and the Abolition 2000 working group on the 2018 UN High-Level Conference.
Together we can achieve a nuclear-weapon-free world.
Yours sincerely
The Reaching HIGH Virtual Conference team