2017/05/21-26 Brussels
Actions against NATO summit: What are we planning?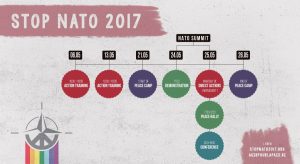 A series of direct actions, starting on Sunday, May 21st. If you want to join in, let us know via:
Participation in the big "TRUMPism Not Welcome" march on Wednesday, May 24th at 5PM. This protest march will be held in coordination with the woman, student, climate, social and refugees movements (among others). We'll try to have the messages of the peace movement as visible as possible. Suggestions or co-operation?
A Conference & workshops with international guests on Thursday, May 25th. See the draft program here based on the proposals made during the preparatory meetings. You're invited to suggest adjustments, names and co-operation:
A peace camp will take place from May 21st till 26th 2016. For more information contact:
Lodging and practical information?
To those activists who seek accommodation, we will offer a place where they can gather and from where the different direct actions can be set up. If you are living in Brussels and have the possibility of offering a bed and accommodation to activists, please let us know. Info and co-operation?
Support the actions
For all those actions, we need premises, materials, … Every support can be useful to us.
Please help us with financial contributions on account (IBAN) BE47 0000 9560 1580 – (BIC) BPOTBEB1
Do you want to participate? Contact us at
Best wishes,
The Stop Nato Team Brussels 2017