2017/01/20 Berlin
Nein zum globalen Trumpismus: Zeit zu handeln!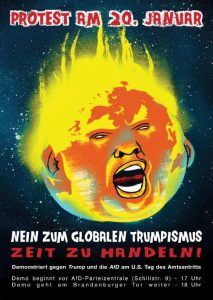 Protest am 20. Januar 2017, Tag des Amtsantritts Trumps in den USA
Donald Trump steht gerne im Rampenlicht. Aber: sobald er sein Amt antritt, werden sich die Kameras den Demonstranten zuwenden, die ihn und andere Machthaber daran erinnern, dass Rassismus, Frauenfeindlichkeit, Homophobie, Antisemitismus, Islamfeindlichkeit und Angstmacherei nicht toleriert werden.
Trumpismus ist keine isolierte nationale Bewegung. Gemeinsam treten wir den Rechtsopportunisten entgegen – darunter Frauke Petry, Marine Le Pen, Geert Wilders und Nigel Farage –, die aus Machthunger Zuwandernden sowie religiöse und ethnische Minderheiten zum Sündenbock machen oder dämonisieren.
Jetzt heißt es zusammenstehen und aktiv werden:
gegen die pauschale Entwertung der Demokratie;
gegen die Aushöhlung demokratischer Institutionen zugunsten mächtiger Konzerne;
gegen gewalttätigen Nationalismus;
gegen Angriffe auf Arbeiter_innenrechte und Gewerkschaften;
gegen die zunehmende wirtschaftliche und soziale Ungleichheit;
gegen Korruption;
gegen die gefährliche Gleichgültigkeit gegenüber dem Klimawandel;
gegen Profit über alles!
Trumps Rücksichtslosigkeit und seine Bereitschaft, militärische Mittel unverhältnismäßig einzusetzen, sind eine reale Gefahr für unsere Sicherheit: sie können die weitere Eskalation schwelender Konflikte und verschärftes Wettrüsten bis hin zum Krieg nach sich ziehen. Trumps Aggressivität bedroht die internationale Zusammenarbeit, den friedlichen Dialog, die Abrüstung.
Weltweit nimmt der Extremismus zu. Rassistische Rhetorik entfacht Fremdenfeindlichkeit und Gewalt gegen Flüchtlinge und Minderheiten. Die Rüstung wächst. Umweltschutzmaßnahmen sind gefährdet, die Risiken des Klimawandels werden kleingeredet oder verschwiegen. Wirtschaftliche Disparitäten verschärfen sich. Gefälschte Nachrichten verdrängen Fakten. Öffentliche Dienstleistungen – Sozialversicherung, Bildung, Gesundheitsversorgung – werden zunehmend privatisiert. Die Rechte von Frauen und Minderheiten geraten unter Beschuss.
Dagegen müssen wir uns wehren. Wir müssen Brücken gegen Hass und Spaltung bauen, vereint und über Ländergrenzen hinweg, solidarisch mit allen Menschen in Washington D.C., London, Madrid, Paris und andernorts, die NEIN zu Trump sagen.
Macht mit und protestiert am 20. Januar gegen Trump und die AfD. Die Demo beginnt gegenüber dem AfD-Büro, Schillstraße 9, um 17 Uhr und wird um 18:00 Uhr am Brandenburger Tor fortgeführt.
Zu dieser Demo wurde ursprünglich im Rahmen eines Meetings am 7. Dezember zur Gründung einer internationalen Koalition gegen den "globalen Trumpismus" aufgerufen. Vertreter oder einzelne Mitglieder der folgenden Organisationen waren anwesend: American Voices Abroad Berlin, Berlin Forum on Global Politics, Berlin Ireland Pro-Choice, Berlin Soup, Club Al-Hakawati, CommUNITY Karneval, DIE LINKE Berlin Internationals, DISRUPT J20 Berlin, IALANA, IG Metall, marx21, NODAPL Berlin, No to war No to NATO, Polish Pro-Choice Group, Progressive Democrats Abroad, Pussy Fights Back, Salon for the Resistance, SAV, Stop Breitbart, ver.di.
Macht mit – am Amtsantrittstag und danach. Schreibt an <> um uns zu unterstützen, oder seid am 20. Januar dabei.
Den Aufruf herunterladen: Nein zum globalen Trumpismus.pdf