Move Away from Nonstop War. Close the Ramstein Air Base.
Located in southwestern Germany, the U.S. government's Ramstein Air Base is serving key functions for nonstop war that has been hugely destructive in many countries. The Ramstein base is essential to drone warfare and many other forms of military intervention, from Pakistan and Afghanistan to the Middle East and Africa.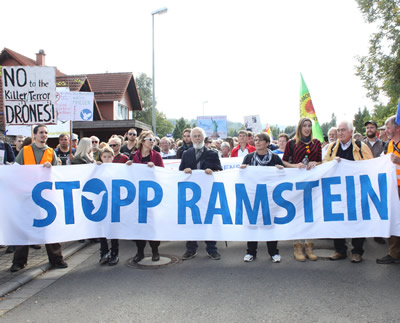 Please become a signer of the petition at this link and share it with your friends. This is a global campaign to close the Ramstein Air Base and challenge agendas for perpetual war.
The petition is scheduled to be delivered to the German government in Berlin by U.S. drone whistleblowers in a presentation sponsored by RootsAction.org, in coordination with a conference organized by World Beyond War. The petition will also be delivered to the U.S. government in Washington.
http://act.rootsaction.org/p/dia/action3/common/public/?action_KEY=12254&tag=WBW20160602&track=WBW20160602