2023/11/14 online zoom 21:00 UTC (GMT)


Webinar NATO is a Climate Killer:
Why We Must Disband the Alliance for Decarbonization
Wed.­Nov.­15th 7am (ChsT/­UTC+10) | Tue.­Nov.­14th 2023 10pm (CET­/­UTC+1) | 4pm (ET­/­UTC-5)
Register in advance: https://bit.ly/NATO-ClimateKiller
Moñeka and Tamara will discuss the North Atlantic Treaty Organization's adverse impact on the climate and how globalizing NATO is preventing international cooperation needed for climate action. NATO is a US-led fossil fuel powered war machine that is derailing the Paris Agreement with its weapons and wars. The speakers will explain why it is so important to resist the military alliance and call for its abolition for climate justice.
With this webinar, the No to NATO Network and GWUAN aim to contribute to the ongoing discourse on issues related to the upcoming COP 28 in Dubai, UAE (November 30 to December 12), as well as to the preparations for counter-activities at the NATO 75th Year Summit in Washington DC (July 6 and 7, 2024). We want to sensitize the environmental and climate movements to the damage caused militarism and how military spending is diverting resources needed for climate justice. We cannot stop global warming if we don't stop the wars of NATO. We need to learn about the damage that has been done by NATO to countries in the Global South and how this has undermined their capacity to deal with the worsening climate crisis. The aim of our webinar is find common strategies for climate justice and peace. Further webinars will follow.
---
Moñeka De Oro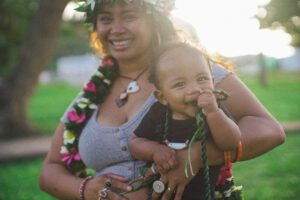 Moñeka De Oro is a proud indigenous Chamoru daughter (Jeje, Lazaru, Paulino and Kotla, Calvo clans) of the Mariana Islands. As a mother, organizer and educator she is motivated to protect all that is sacred from unsustainable development and militarization for future generations. She envisions an interdependent, peaceful and prosperous world made possible through indigenous knowledge, women in leadership and a Just Transition. Her work has been uplifted through fellowships and leadership development programs with Women Earth Alliance, Climate Justice Alliance, NDN Collective, MIT Solve and the New's School Tishman Center. De Oro is a cofounder and coexecutive director of Micronesia Climate Change Alliance.
Tamara Lorincz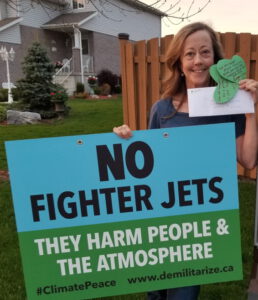 Tamara Lorincz is a long-time environmentalist, feminist and peace activist and organizer against NATO. She is also a PhD candidate in Global Governance at the Balsillie School for International Affairs at Wilfrid Laurier University. She has a Masters in International Politics & Security Studies from the University of Bradford and a Law degree and MBA focussing on environmental law and management from Dalhousie University. She is the former Executive Director of the Nova Scotia Environmental Network and co-founder of the East Coast Environmental Law Association. Her doctoral research is on the climate and environmental impacts of the military. She's a member of the Canadian Voice of Women for Peace and the Women's International League for Peace and Freedom-Canada. Tamara is also on the advisory committee of the Global Network Against Weapons and Nuclear Power in Space and the No to NATO Network. Tamara will be attending the climate summit in Dubai with the Canadian civil society delegation.
Please register in advance https://bit.ly/NATO-ClimateKiller (zoom link)
---
For preparation we recommend:
---
| | | | |
| --- | --- | --- | --- |
| Location | Local Time | Time Zone | UTC Offset |
| Auckland (New Zealand – Auckland) | Wednesday, 15 November 2023, 10:00:00 | NZDT | UTC+13 hours |
| Sydney (Australia – New South Wales) | Wednesday, 15 November 2023, 08:00:00 | AEDT | UTC+11 hours |
| Hagåtña (Guam) | Wednesday, 15 November 2023, 07:00:00 | ChST | UTC+10 hours |
| Manila (Philippines) | Wednesday, 15 November 2023, 05:00:00 | PHST | UTC+8 hours |
| Tokyo (Japan) | Wednesday, 15 November 2023, 06:00:00 | JST | UTC+9 hours |
| Berlin (Central Europe ie Germany) | Tuesday, 14 November 2023, 22:00:00 | CET | UTC+1 hour |
| Toronto (Canada – Ontario) | Tuesday, 14 November 2023, 16:00:00 | EST | UTC-5 hours |
| New York (USA – New York) | Tuesday, 14 November 2023, 16:00:00 | EST | UTC-5 hours |
| San Francisco (USA – California) | Tuesday, 14 November 2023, 13:00:00 | PST | UTC-8 hours |
| Honolulu (USA – Hawaii) | Tuesday, 14 November 2023, 11:00:00 | HST | UTC-10 hours |
| Corresponding UTC (GMT) | Tuesday, 14 November 2023, 21:00:00 | | |
---