2022/10/17 zoom webinar


The US, NATO, and the New Manifest Destiny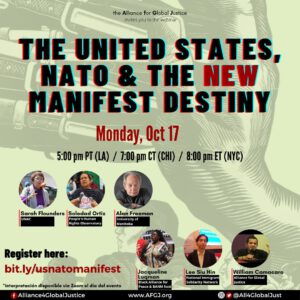 This webinar will be in English and Spanish, with zoom interpretation.
Monday, October 17, 8pm ET, 7pm CT, 6pm MT, and 5pm PT
https://web.zoom.us/webinar/register/WN_079UgEALQnKQNqc2IvTveg
This webinar is being presented by the Alliance for Global Justice and the People's Human Rights Observatory as part of UNAC'S Back to the Streets October 15 – 20, 2022 week of actions against US wars, and Black Alliance for Peace' Month of Action Against Africom.
Learn more about the October Month of Action Against Africom
https://blackallianceforpeace.com/
While Ukraine and Russia are embroiled in a war provoked by US regime change and NATO expansionism in Eastern Europe, NATO is extending its reach across the world to establish its predominance. NATO Global Partners include Afghanistan, Australia, Colombia, Iraq, Japan, the Republic of Korea, Mongolia, New Zealand and Pakistan–nations nowhere near the North Atlantic. In Africa, NATO has prosecuted a war against Libya, and has developed the NATO Response Force for rapid deployment in Africa and the Middle East. NATO recently carried out unprecedented naval exercises in the Caribbean.
Manifest Destiny was the idea that the United States had a "God-given" right to conquer North America "from sea to shining sea". The New Manifest Destiny signifies the false, racist, but assumed "right" of the Pentagon and NATO and the oligarchies they serve, to go anywhere and do anything to strengthen their grip on the planet and its resources. The New Manifest Destiny puts the entire world in danger, even at the risk of nuclear war, as it seeks dominion "from sea to shining sea", and across the seven continents.
FEATURED SPEAKERS:
Sarah Flounders, UNAC (United National Anti-war Coalition), speaking about the general context of the UNAC week of actions and the anti-war movement
Soledad Ortiz, People's Human Rights Observatory and retired Professor of Indigenous Languages, on Manifest Destiny, past and present
Alan Freeman, professor emeritus at the University of Manitoba on Geopolitical Economy
Jacqueline Luqman, Black Alliance for Peace and co-host of By Any Means Necessary, on Africa and NATO
Lee Siu Hin, National Immigrant Solidarity Network/Peace No War Network, on Asia and NATO
Eduardo Correa, Professor of Human Rights, Autonomous University of Mexico City