2022/10/04 webinar 7PM CEST/ 5PM CAT/1PM EDT


How the West has Militarised and Impoverished the African Continent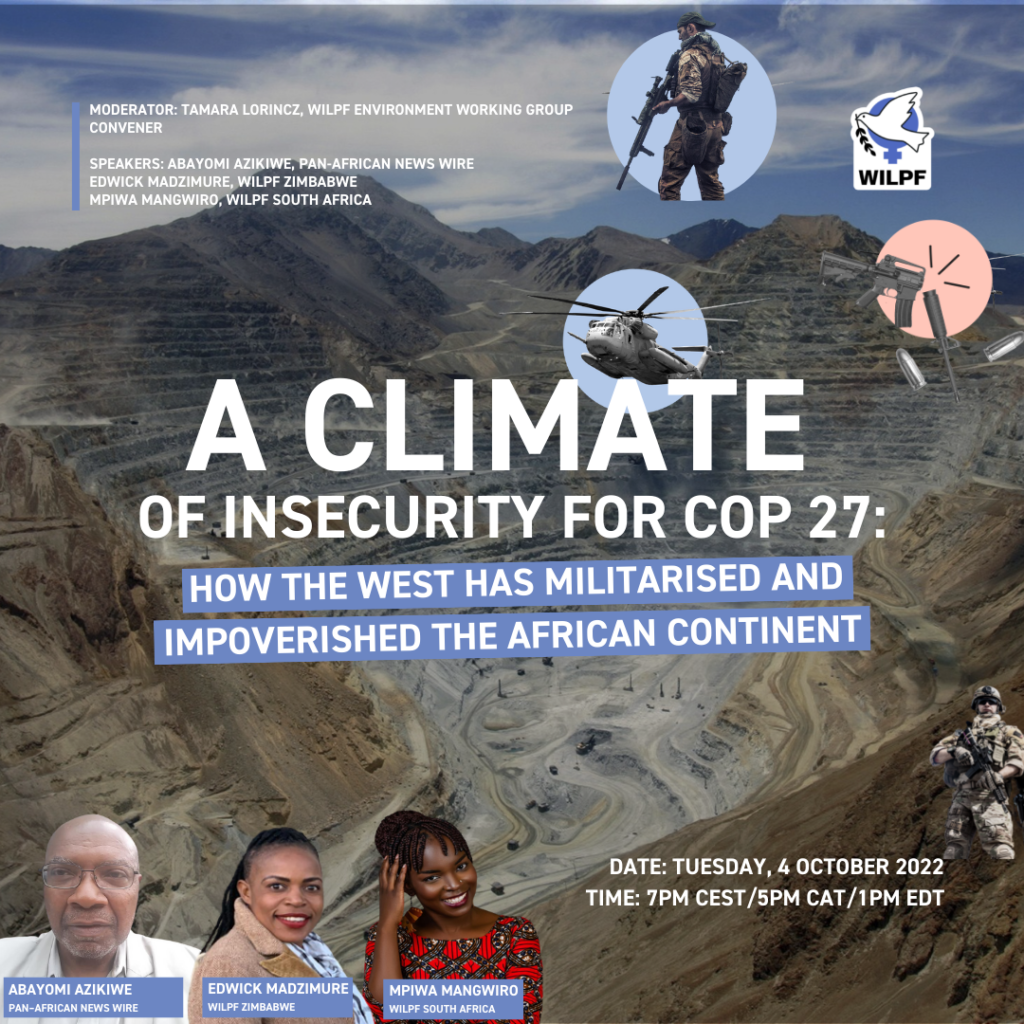 Register: https://bit.ly/3eVqB1h (zoom link) 
WEBINAR: "A Climate of Insecurity for COP 27: How the West has Militarised and Impoverished the African Continent"
Tuesday, 4 October 7PM CEST/ 5PM CAT/1PM EDT
Register: https://bit.ly/3eVqB1h 
Organized by the Women's International League for Peace and Freedom (WILPF).
The event will have English, Arabic, and French interpretation.
https://www.wilpf.org/calendar/a-climate-of-insecurity-for-cop-27-how-the-west-has-militarised-and-impoverished-the-african-continent/ 
Speakers: Abayomi Azikiwe (Pan-African News Wire) Mpiwa Mangwiro (WILPF South Africa), Edwick Madzimure Edwick (WILPF Zimbabwe) and Jasmine Burnett (Black Alliance for Peace). Moderated by Tamara Lorincz (WILPF Canada) and WILPF International Environment Working Group convener.
The webinar will explore how military alliances such as NATO and US AFRICOM are militarising the African continent. Africa is the continent hit hardest by the climate crisis and is already experiencing severe droughts, desertification, worsening heat and water, and food insecurity. Instead of helping Africa adapt and become more resilient, the US and NATO allies are exporting arms, training security forces, conducting destabilising military operations, and increasing tension causing a climate of insecurity across the continent.  The issue of Western militarism exacerbating the climate emergency cannot be overlooked in the lead up to COP 27.
For background, please see Abayomi Azikiwe's "Africa Remains at the Center of a 21st Century Cold War" and Djibo Subukwe's article "NATO and Africa: A Relationship of Colonial Violence and Structural White Supremacy" as well as Margaret Kimberley's interview "Blacks must oppose US AFRICOM": https://www.youtube.com/watch?v=oYPhQvGQ2VU
The webinar is held in solidarity with the Month of Action against US AFRICOM hosted by Black Alliance for Peace #ShutDownAFRICOM. Learn more here: https://blackallianceforpeace.com/africom2022
Please share this webinar on your social media, in your networks, and make sure to join us on Tuesday, 4 October 7PM CEST/ 5PM CAT/1PM EDT. Registration link: https://bit.ly/3eVqB1h
On Twitter: https://twitter.com/WILPF/status/1576847732236423168
Please share our event on Facebook: https://www.facebook.com/wilpf
On Instagram: https://www.instagram.com/p/Ci97scpj74L/
On the WILPF web site:  https://www.wilpf.org/calendar/a-climate-of-insecurity-for-cop-27-how-the-west-has-militarised-and-impoverished-the-african-continent/