2022/05/24


A Benefit for Women Cross DM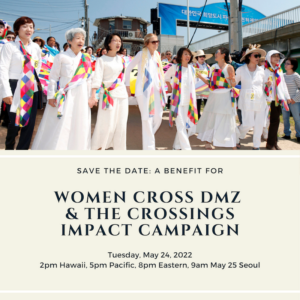 https://www.womencrossdmz.org/
SAVE THE DATE!
A Benefit for Women Cross DMZ and the Crossings Impact Campaign
Tuesday, May 24, 2022
2pm Hawaii, 5pm Pacific, 8pm Eastern, 9am May 25 Seoul
With Christine Ahn, Aiyoung Choi, Don Mee Choi, Deann Borshay Liem, Dohee Lee, emcee Vivian Lee and more! Special keynote greeting by Gloria Steinem.
Join us for this special online fundraiser to get inspired by the work for peace by Women Cross DMZ and learn about our plans to show the new film Crossings in 100 cities across the globe.
More details coming soon!